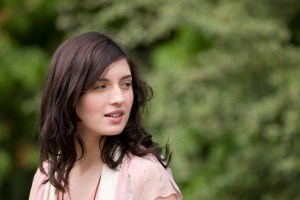 Schoolyard bullying is apparently nothing new. In Cracks, set in 1934, an austere and isolated English boarding school for girls is an institution where physical violence among the students is the most popular part of the curriculum, next to lesbian lust.
The most adored teacher at St. Mathilde's is the mysterious, eccentric and completely superficial Miss G, who teaches swimming and diving. Miss G also instills in her girls one talisman to live by–"The most important thing in life is desire"–and does her best to follow her own advice. She smokes furiously, drinks too much, disobeys the school rules and wears men's clothes like a young Katharine Hepburn. Miss G encourages free thinking, late-night parties, scantily clad bodies in the lake and the kind of ambiguous sexuality that turns her impressionable pupils positively giddy with hormonal confusion. As played by super-cool Eva Green, who raised temperatures as the only femme fatale James Bond ever truly loved, in Casino Royale, Miss G symbolizes sophistication, independence and erotic freedom.
The girls swoon when she passes them in the hall and compete for her favors. Miss G basks in their attention, but when she starts playing favorites, flames of jealousy begin to flicker. Teacher's pet Di Radfield (Juno Temple) feels threatened by every girl who gets too close to her role model. Arrogant and haughty, she has always been the group leader, but all of their rigid, implacable little lives and routines are turned upside down by the arrival of a new student–the dark, delicate Spanish aristocrat Fiamma (Maria Valverde), who joins the diving team and raises the bar for everyone, including Miss G. Consumed with frustration over Miss G's growing obsession with this foreign intruder, Di asserts her power over the other girls, commanding them to ignore and humiliate the newcomer. It doesn't work. One night, during the drunken midnight feast of St. Agnes, Di sees Miss G carry Fiamma to her bedroom, where she caresses her student's naked body and proceeds to ravage her. Di declares war, provoking the others to beat up Flammia until she nearly dies, but when the guilty parties run for help, it is Miss G, playing the rejected lover, who steps in and changes their lives forever.
Cracks is a cross between Maedchen in Uniform and The Children's Hour, but despite the obvious parallels, director Jordan Scott, the daughter of Ridley Scott, shows a keen knowledge of craft and structure. There is so little dialogue of any significance that I can't figure out why the film is credited with three screenwriters, but Ms. Scott knows what to do with the camera to show dark psychological forces at work behind the students' sun-drenched athletic complexions, as well as the subtlety in the girls' shifting allegiances. Best of all is how Miss G's sensuality blows up in her face, rendering the end results of her opening credo on desire nothing less than shocking. Cracks, a British-Irish co-production beautifully shot in Galway, may not appeal to every taste, but it marks an arresting feature debut for Jordan Scott, a director who is well worth watching.
rreed@observer.com
Cracks
Running time 107 minutes
Written by Ben Court, Caroline Ip and Jordan Scott
Directed by Jordan Scott
Starring Eva Green, Juno Temple, Maria Valverde
2/4