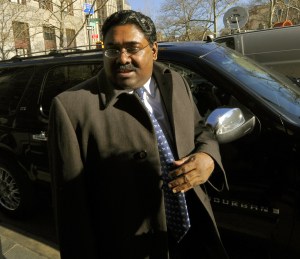 Last Wednesday, inside a wood-paneled courtroom with gold taffeta curtains and wall-to-wall carpet patterned with federal seals, Raj Rajaratnam, billionaire founder of the Galleon hedge fund, stared at a far-off point in space. The man at the center of the government's biggest insider-trading case ever, flanked by five of his attorneys and free on $100 million bail, never once turned his head to study the masses piling onto the benches behind him. They were all there to revel in the very public dissection of his once mighty hedge fund and the titanic-proportioned details of its sinking. He ignored them.
At some point, he might testify. But for now Mr. Rajaratnam was confined to the same spectator's role as the rest of the room. If he was going to be pilloried, he appeared to be suitably fortified. Perhaps he even looked forward to it. He watched as the government's lead prosecutor, Jonathan Streeter, an athletic 43-year-old with salt-and-pepper hair and rectangular glasses, approached a podium in front of the jury box.
"Greed and corruption," Streeter began. "That's what this case is about."
If only it were as simple as that. As Mr. Streeter set about explaining the concept of insider trading, what a hedge fund is and how Mr. Rajaratnam conducted illegal trades "again and again and again," the extent of the challenge faced by the government became clear. For a prosecutor in a case like Mr. Rajaratnam's, the difficulty is in simplification.
For the defense, the job is to complicate. Representing the accused was John Dowd of Washington, D.C.'s 800-lawyer powerhouse, Akin Gump Strauss Hauer & Feld. The bejowled and fearsome ex-Marine's previous clients have included John McCain and Monica Goodling. The cajoling in this trial would come from the defense. He was all avuncular corpulence and honeyed aphorism. Mr. Rajaratnam, he insisted, was an "investment professional." Everybody else the jury would see, he emphasized, was not.
One government informant "is a professional liar who played the government like a violin"; another "would aggressively say anything, even lie to all her friends." None of them were worth trusting. "Each of these witnesses is on a leash, and the prosecutor is at the other end of that leash," he drawled. "The prosecutor holds the key to the jail house for each one them."
The prosecutor in question is, of course, Mr. Streeter. He has won convictions or guilty pleas for executives accused of accounting fraud, traders who cooked the books, money launderers and insurance fraudsters. He successfully argued against Manhattan attorney Marc Dreier, a con man who trafficked in fake securities. He got a conviction against former Ernst & Young partner James Gansman for insider trading, and against former Duane Reade execs Anthony Cuti and William Tennant for padding their quarterly earnings report.
"He's a very effective prosecutor," said David Siegal, a former assistant US attorney who is now a partner at Haynes and Boone, LLP. "Undoubtedly one of the most effective and experienced trial attorneys in the U.S. attorney's office right now."
Still, none of those cases, or the 130-odd others in which Mr. Streeter has participated during more than a decade as an assistant U.S. attorney, matches up with the Galleon investigation and its current billionaire target.
The trial of Raj Rajaratnam, which began March 8, marks the government's first public reckoning in its widespread crackdown on insider trading. Since U.S. Attorney Preet Bharara took office in August 2009, charges have been filed against 46 people from hedge funds, expert networks, Fortune 500 companies and other financial institutions. Of that number, 29 have pleaded guilty, many of them now acting as government witnesses. The crackdown has ensnared former employees of one of the most prominent hedge funds in the business, Steve Cohen's SAC Capital. Since major F.B.I. raids took place in November 2010, three other hedge funds have shuttered and another is rumored to have suffered more than $1 billion in losses from investor withdrawals. Mr. Bharara said that the Galleon trail "should be a wake-up call for every hedge fund manager and every Wall Street trader and every corporate executive who is even thinking about engaging in insider trading."
The case against Raj Rajaratnam also marks the first time that the government has used wiretaps in such an investigation–the first time, in other words, that Wall Streeters are being treated like suspected drug dealers and mobsters. The profits that the government alleges that Galleon earned through insider trading–$45 million–are just as unprecedented. The list of potential witnesses includes Wall Street titans like Goldman CEO Lloyd Blankfein and its CFO, David Viniar.
"It's remarkable because it's somewhat unusual to have these types of recordings," said former U.S. attorney David N. Kelley, who headed New York's Southern District from 2003 to 2005 and is now a partner at Cahill. The Rajaratnam trial, he said, stands to determine "where the new boundary is going to be drawn in what is proper and improper in the marketplace."