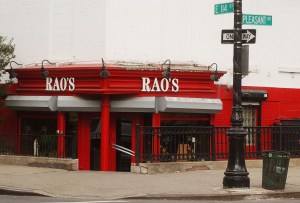 A signed photo of Regis Philbin in his pre-retirement years of taut jowls and salt and pepper hair greets guests near the entrance to Rao's on East 114th Street. Next to him the top half of a dutch door is open, drawing the eye into the steaming kitchen of the legendary Italian eatery, a stainless steel cauldron the size of Rhode Island gurgling across several stovetop burners.
Most New Yorkers have never been to Rao's–the wait for a reservation can be longer than most Manhattan marriages–so the fact that a group of Las Vegas residents were invited to patronize the storied establishment without any reservation at all was cause for alarm, or at least an explanation. On Monday evening, March 1, Bon Appétit magazine corralled a singular pairing of homegrown New York media types and imported haute cuisine chefs from Las Vegas at Rao's to celebrate Vegas Uncork'd by Bon Appétit, the annual food and wine festival held in the Nevada hub the first weekend in May.
Jean Georges Vongerichten arrived early, smiley in a black pull-over, but could only stay from 6:30-6:45pm as Donald Trump was coming to dine at Mr. Vongerichten's Columbus Circle restaurant in the Trump International Tower–dueling namesakes leaves no time for Rao's.
Other celeb chefs included Francois Payard and Jet Tila, a top chef at Wynn Resorts who explained the difficulties of making Steve Wynn's personal sushi now that Mr. Wynn has gone vegan.
Rafish Adam Rapoport, newly minted editor of the host magazine, moved his eyes towards the ceiling pensively before answering what his last meal would be. "Well, I would make my last meal, because I'm a control freak. But the question is, would I go the mom route, like mom's meatloaf and mashed potatoes or something else?"
He wore dark-washed Levi's and a trimly tailored dark blazer.
"And then the bigger question is, who would it be with? Do I know it's the last meal?"
Unlike Alex Trebek, Mr. Rapoport was giving questions rather than answers.
Finally, he sat down at the red leather booth and taking a fork full of Rao's Cheesecake perfected his answer.
"I would get an aged rib-eye from the Florence Meat Market and I would cook it medium rare over really hot charcoal–no gas. Then I would have it sliced over arugula with lemon and olive oil and on the side I would make some roasted Yukon Gold potatoes, but peeled so they're crispy on the outside and fluffy on the inside. I would have two vodka sodas while I'm grilling and then a good Burgundy, maybe a Nuits-Saint-Georges."
He leaned back and sighed with satisfaction.
Dessert?
"Oh. I'm not really a big dessert guy. Maybe a biscotti?"
-cmalle@observer.com