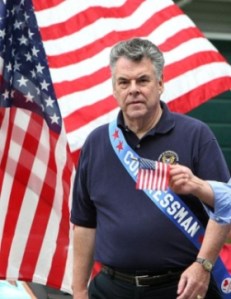 Members of the New York City Congressional delegation were at City Hall today and several of them expressed concern to The Observer about Rep. Peter King's upcoming hearings on Muslim radicalization.
"I don't where that is all coming from and I am not supportive of polarizing any community within our country," said Rep. Joe Crowley of Queens. "I think it's unfortunately been divisive and I would prefer that our government not be engaged in these kinds of hearings."
The Bronx's Jose Serrano agreed.
"He claims that he has reasons but they worry me, because any time you single out a group of people you run the risk of creating more problems," he said. "The last thing we need in this country right now is more stereotyping of the Muslim community. I fully don't know what the purpose of these hearings are, I don't know what the agenda is but I hope he understands that he runs the risk of creating a bigger divide than we have already."
Serrano and Crowley and others were at City Hall for a meeting with administration officials about the budget.
Neither congressmen said they had spoken with Mr. King about the hearings.