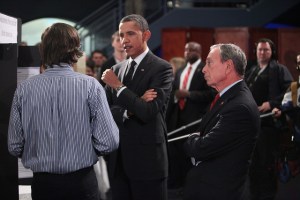 Ahead of his first fund-raiser, Obama hung out with the mayor.
Via pool reporter Jonathan Lemire:
Pool held for about 30 minutes in one of the Museum's empty rooms while Obama taped his interviews with Brian Williams, Erica Hill and Diane Sawyer.

Directly afterward, Obama dropped by the New York City Science and Engineering Fair which was being held at the Natural History Museum's Milstein Hall of Ocean Life, where a 94-foot model Blue Whale hung ominously over the room.

One girl screamed out "He's here, I can see his head," just before POTUS entered the room.

He was accompanied on a tour of the research projects by Mayor Michael Bloomberg, and Jeanette Kim, Director of the NYC Science and Engineering Fair.

"I've been traveling around the country talking about how America can win the future… Whenever I get a chance to go to a science fair, I go," Obama said.
Update: More images here.