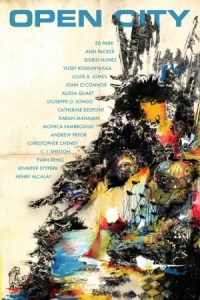 After 20 years and 30 issues, Open City is ceasing publication, co-editor Joanna Yas told The Observer.
"These things are not institutions," said founder and co-editor Thomas Beller. "They're always razor's edge things."
Ms. Yas and Mr. Beller decided to shut down the journal after multiple sources of funding pulled out. They hadn't expected issue 30 to be the swansong.
"The vibe of the last party," said Mr. Beller, "showed me that the magazine has had a lot of action around it. It's ending on a really good note."
"The Open City people were from an earlier time–the mid-'90s," said the novelist Sam Lipsyte, "the last time you really felt an understanding that the man was inherently bad. A distrust of the official discourse was what bound people together–and a distrust of hippies."
Mr. Lipsyte's first story in the magazine, "Shed," was an account of sodomy conducted with a hoe handle. It was commissioned by the late Robert Bingham, who joined Mr. Beller and Daniel Pinchbeck, Open City's co-founder, shortly after the journal's launch.
"I remember Bingham called me up and said, 'Don't sell out to the majors.'"
Mr. Lipsyte is one of a pair of writers most identified with the magazine. The other is the poet Dave Berman, leader of the indie rock band Silver Jews.
"We get two piles of imitators in slush," Ms. Yas said, "the Lipsytians and the Bermanites."
"I didn't expect that Open City would continue at all after Rob Bingham's death," said Mr. Berman. Bingham died in 1999 of a heroin overdose. Shortly thereafter, Mr. Pinchbeck decamped, and Ms. Yas, then the managing editor, joined Mr. Beller as co-editor.
"I feel a tremendous amount of admiration for Joanna for squeezing an extra decade out the magazine," Mr. Berman said.
For now, Ms. Yas is at work on an anthology of stories from the magazine. She and Mr. Beller will continue to publish Open City Books. (Their next title is The Smell of Pine, a novel by Lara Vapnyar.)
Novelist Jonathan Ames emailed to say that Open City was "the new Paris Review" for his generation of writers, "while also being McSweeney's before there was McSweeney's. It was and is a beautiful magazine."
"Open City has offered me shelter and encouragement, and I needed it!" Diane Williams, a contributor since the inaugural issue in 1991, wrote The Observer in an email. "They didn't let me down!
"Oh, this is very sad news!"
–Christian Lorentzen