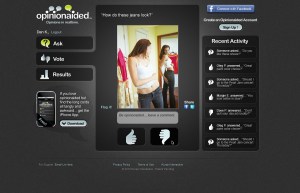 Question: How can I get someone to give me a million dollars?
Answer: Start a question and answer service.
NY and NJ based Q&A app Opinionaided has just raised $1 million from General Catalyst, SoftBank Capital and Draper Fisher Jurvetson along with angel investors Mark Wachen of DreamIt Ventures and Jonah Goodhart of Point Ventures Group.
As the app's title implies, its not looking for factual answers, just opinions. Users can give a thumbs up or thumbs down to questions in the style of Hot or Not.
As any TV film critic or Roman gladiator will tell you, thumbs up and thumbs down are really the only responses you need to answer life's most important questions. For example, in response to the question "What's the best way to cure pneumonia?" Opinionaided users have voted two thumbs up, one thumb down and zero helpful answers of any sort at all.
It's possible that this app could be useful for getting the internet's opinion of whether or not those new jeans make you look fat, but for anything beyond that, the wisdom of the crowd seems like it may end up squandered.
bpopper [at] observer.com | @benpopper