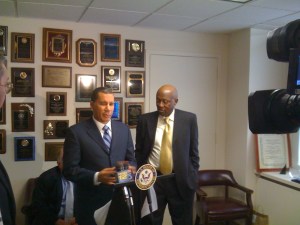 Former Governor David Paterson has high praise for the budget battle being waged by his successor, Andrew Cuomo.
"I really like the task forces he put together to give people a chance to air their differences to each other personally, which I think is actually brilliant," Paterson said yesterday in Brooklyn.
"What the governor is doing is, he's not just thinking about the 2011-2012 budget, he's thinking about the next three years. The state owes somewhere between 50 million and 60 million dollars," he said. "So, as much people see this problem as immediate, this problem is going to be here. And he's trying to cut into it so that it will replicate into those years and I think he's doing a really good job."
The former governor surfaced in Brooklyn on Monday afternoon to join the National Federation of the Blind in presenting an award to Congressman Ed Towns. Towns recently passed a new law that will study how best to implement noise-making technology on the new breed of quiet, hybrid cars, which can make it difficult for blind people to navigate intersections.
(Towns' connection to the blind community stretches back five decades; he served as a cane teacher after leaving the Army in the 1960s, and bragged that he had been given the most difficult students, who were often still adjusting to their blindness.)
Paterson underscored the need for the noise-making technology in talking about his own transition to private life, which he had publicly worried might be difficult without his state aides.
"Personally, I would say–oddly enough–everything is going fine except the other day I was crossing the street and this other pedestrian stopped, and so I stopped, and a bike flew by," he said. "Which reminded me that I was never really afraid of the cars. I was afraid of being hit by a bicycle, because you can't hear them."
But there are parts of private life he is enjoying. Asked about the overheated rhetoric between Cuomo and Mayor Bloomberg last week, Paterson said: "It was great, because I didn't have to be in it."
And he said he's enjoying his new teaching position at N.Y.U., where they've been rotating him through different schools to give more students a chance to interact with him.
"I've done a leadership seminar, I've done a civil rights seminar, and I'm going to do one called How to Make Budgeting Interesting," he said with a laugh.