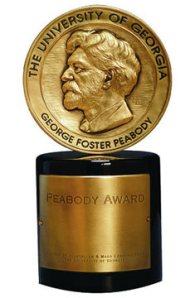 The Peabody Awards–so much more staid and trustworthy than those flashy Emmys!–announced the recipients of their prizes for excellence in media this morning, and the list is deliriously familiar, if worthy: PBS' Great Performances, American Masters, and American Experience, C-SPAN's online library, HBO's The Pacific. All very worthy recipients! But the more lowbrow recipients are a bit more fun to contemplate, as the awards-givers' language in every citation exerts Cirque du Soleil levels of bending over backwards to justify each choice, complete with meaningless adjectives of praise and loose stabs at context. To wit:
The Good Wife (CBS): "In this densely layered dramatic series, the dutiful wife of a disgraced politician resumes her
legal career and finds satisfaction, self-worth and moral quandaries of her own."
Degrassi (TeenNick): "True to its history, the durable high-school serial's two-parter about a transgender teen neither
trivializes nor overdramatizes its subject."
Men of a Certain Age (TNT): "A series about three longtime pals, 'regular' guys, navigating middle age, it's comical, poignant and harrowing, sometimes all at once."
The quasi-scare-quotes around "regular" in that last citation have sold us–we thought the TNT drama was just boring schlock, but who knew "regular" life had such complexities? We've written up a few citations of our own, using suitably vague and effusive language, that the Peabodys missed.
Survivor (CBS): "This venerable and evocative drama series about island life presents the viewer with questions of mortality and group dynamics, sometimes both at once."
Kourtney and Kim Take New York (E!): "A piece of urban cinema verite that depicts two sisters navigating a new environment and discovering their own self-worth."
Two and a Half Men (CBS): "A gripping portrait of addiction that manages to make light of–never overdramatizing–its subject."
The Peabody Awards, hosted by Larry King, will be held May 23. See you then, Kourtney and Kim!
ddaddario@observer.com :: @DPD_