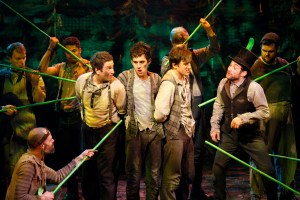 Philip William McKinley and Roberto Aguirre-Sacasa should get themselves to East Fourth Street. They are the director and playwright charged with transforming the newly de-Taymored $65 million (and surely rising) Broadway extravaganza Spider Man: Turn Off the Dark into something entertaining, understandable and enjoyable. And it turns out that down at the tiny New York Theater Workshop, directors Roger Rees and Alex Timbers, working from a script by Rick Elice, have done exactly what Spider-Man has thus far failed to accomplish.
Their Peter and the Starcatcher, a prequel to Peter Pan based on the 2004 children's novel by Dave Barry (yes, that Dave Barry) and Ridley Pearson, is a cleverly mounted, humorously written and exuberantly performed tale of how a now well-known orphan boy met a girl, gained special powers, learned to fly and became a legend. It is being staged without any high-tech gimmickry, with no injured performers and on a budget that presumably wouldn't cover Spider-Man's physical-therapy bills. When this hero takes flight, he's simply lifted by the rest of the cast.
Mr. Elice's script has its problems, but they're nothing compared to those facing the arthropod uptown. Here, it's the first act that's a bit troubled, taking a while to untangle itself and get moving. (Cleverness, like accents, can be tough to decipher until you're acclimated; cleverness plus accents even more so.)
But it quickly develops into something straightforward: Two boats leave a Victorian and Dickensian England bound for the remote, tropical kingdom of Rundoon. One carries a nobleman guarding an important shipment; the other carries three orphans to be sold into slavery there (and also the nobleman's precocious daughter and her beloved, blowsy nanny). There be pirates, a shipwreck, a marauding crocodile and a swallowed kitchen timer, and a magical substance that just might make a boy fly. By the ending, that orphan boy has been dubbed Peter Pan, his friends have become the lost boys and the pirate captain has lost his hand. Over to you, J.M. Barrie.
In broad outline, Peter and the Starcatcher is an obvious descendent of Wicked, that great and powerful cash cow of a Wizard of Oz prequel. But while Wicked is a predictably over-the-top Mackintosh-style production whose best attribute is its unexpectedly rich script–forget the squealing bubblegum tweens for a moment and remember that it's actually a subversive argument against prom queen Glinda–Peter's story is its least interesting attribute, with the resolution of each plot development telegraphed from its first appearance. A charismatic orphan? He'll be Peter. A pirate who hates him? We're waiting for him to lose his hand. A ship named the Neverland? Of course.
But who cares if the story is obvious when the storytelling is this spectacular? Mr. Rees and Mr. Timbers have created a theatrical world that's so high-spirited, so inventive, so smart–Mr. Elice, who is Mr. Rees' partner and who wrote the book for Jersey Boys and cowrote The Addams Family, loads this simple tale with innumerable gags, puns, one-liners and loads of alliteration–that the play's plot is almost irrelevant.
Mr. Timbers (full disclosure: He's a friendly acquaintance) wrote and directed Bloody Bloody Andrew Jackson, and there's a similar knowingly smartass rambunctiousness to this production, full of meta-theatrical commentary and cheerfully mugging actors, all placed within the charmingly ramshackle sets by Donyale Werle. (What appears to be carved woodworking on the Victorian-style proscenium built for the production is on closer inspection plastic forks and what I'm pretty sure are coffee-cup lids glued to the arch.) It all has a cheerful, let's-put-on-a-show affect–no doubt a diligently and artfully manufactured one–that brings the audience in on the fun.
The immensely likable and talented cast contributes to the general air of happy good cheer. Adam Chanler-Berat, broodingly heroic as the stoner boyfriend in Next to Normal, this time wears his brooding heroism more lightly but no less convincingly as the boy who would be Pan. Christian Borle, last seen as Prior Walter in Angels in America, slowly dying of AIDS, is here the live-wire Black Stache, the pirate who'll become Hook. His over-the-top enthusiasm is the perfect engine for this over-the-top production.
Unlike Bloody Bloody (and Wicked and the Broadway version of Peter Pan), Peter and the Starcatcher is not a musical, but it does have some songs, written by Marco Paguia. There's also some dancing, some fighting, some drag and a bit of Black Watch-style theatrical acrobatics.
There's a lot going on, but still, Peter and the Starcatcher is at its heart a little show, in a little space. It knows what it is, and it's doing all those little things in the best ways. It's goofy, it's immature–it won't grow up!–and it's a hell of a lot of fun.
editorial@observer.com