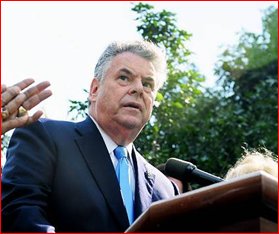 Peter King took to Fox this morning as a counterpoint to Sen. Richard Durbin's hearings on Muslim Civil Rights–hearings that were in turn a counterpoint to King's own hearings on Muslim radicalization.
King took great exception to Durbin's hearings, arguing that they were unnecessary, and worse, that better time would be spent investigating the civil rights violations of other religious groups.
"It is perpetuating a myth that there is some organized effort against Muslims," the Long Island Congressman said. "Why not have a hearing on the civil rights of Catholics or Jews or Buddhists or Hindus. The fact is there is no systematic or intense violation of any rights of Muslims in the country. For instance, there are nine times as many anti-Semetic incidents every year as there are anti-Muslim. There are almost as many anti-Christian as there are anti-Muslim."
Critics asked King to open up his hearing to include investigations into the radicalization of other communities besides one particular religious minority, and he declined.
This morning, he accused Democrats of political pandering by holding the Durbin hearing.
"There was such a fanatical overzealous opposition to this hearing, it was really mindless, and I think that the Democrats just feel that they have to respond, somehow they want to show that they are the party of open-mindedness, that they are the party of civil rights," he said.
Take a look: