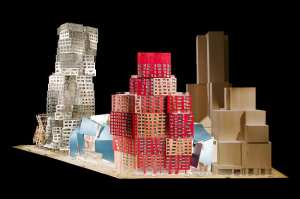 Atlantic Yards has its problems. Bruce Ratner's arena-cum-condos megaproject has involved insider deals and eminent domain, Russian oligarchs and Chinese visas, bratty Brooklynites and disgraced lobbyists. The news, revealed in today's Times, that Ratner is trying to save on construction costs by using prefab building technology is far from the biggest story to involve Atlantic Yards. Yet the news could have a farther-reaching impact on the city than anything else to take place at the corner of Atlantic and Flatbush avenues.
It is not simply that Ratner is considering building a 34-story prefabricated apartment building, though it is notable that this would be the tallest prefab building in the world. It is that, should Ratner succeed, many, if not most, of the city's developers would follow in his footsteps. It could alter the way we build, the way we work, the way we live, the very look of the city.
Architects have been pursuing prefabrication almost since Henry Ford's first Model-T rolled off the line. The dream of mass-producing housing inside of factories was a hallmark of mid-century modernism's utopian streak, though the process proved more costly than traditional methods and was largely abandoned. Over the past decade, however, the technology has advanced enough that it has become an affordable and practical means to build, one that is not uncommon in Europe and Asia. Locally, Pratt recently constructed a prefab dorm and at least two malls made of shipping containers are in the works.
As The Times makes clear, modular construction could present more challenges to Ratner than his fellow developers. One of the reasons housing is said to be so expensive in New York is the cost of labor. By doing much of the "construction" in a factory, developers can cut down greatly on this particular expense, even if the factory workers are unionized, as well. For those looking to encourage gainful employment in New York, this is not necessarily a benefit, as The Times points out:
The state and the city agreed to provide $300 million in direct subsidies for Atlantic Yards, in part, because Forest City insisted that the project would generate "upwards of 17,000 union construction jobs."Not to worry, Ms. Gilmartin said, "We're a union shop, and we build union."

But under current wage scales, union workers earn less in a factory than they do on-site. A carpenter earns $85 an hour in wages and benefits on-site, but only $35 an hour in a factory. And while modular construction employs a large number of carpenters, iron workers, who earn as much as $93.88 an hour in pay and benefits, could lose a lot of jobs.
The possible beneficiaries, though, are tenants, both residential and maybe even office, who could see more—and cheaper—construction, across the city, and thus lower rents.
Or not. This is New York, after all, so it stands to reason the developers would just pocket those savings.