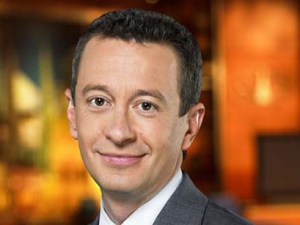 When the New York City political press corps performs their roast of Big Apple politicians on March 26, there will be a new actor playing Mayor Bloomberg.
"I don't want to reveal too much," said WNBC's Andrew Siff about his debut. It's the one night a year when Mr. Siff and fellow city reporters get to knock the people they cover. "But I've watched a lot of his Blue Room performances," he went on, referring to the City Hall room where the mayor holds court. "And also, I'm short like he is!"
Mr. Siff is 5-foot-6; Mayor Bloomberg is about 5-foot-7. WCBS's Rich Lamb, who performed the role the better part of two mayoral terms is 5-foot-10.
Organizers of the Inner Circle Show said they wanted to give someone else a shot at the coveted role. And Mr. Siff has been biding his time playing Rudy Giuliani's son, Andrew; husky billionaire John Catsimatidis; and rail-thin Representative Anthony Weiner (twice!).
The key to spoofing the mayor, according to Mr. Siff, is attitude.
"I would say he has a certain tone at his news conferences that is unmistakable — a combination of a Massachusetts accent and what sounds like mild annoyance," he told The Observer, before quickly adding, "It may not be. He may be in a great mood." — Azi Paybarah