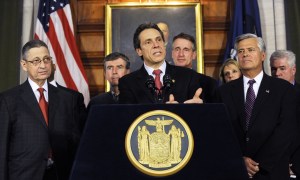 Two days after announcing a budget deal, the actual budget bills are only now starting to be printed.
Now, talk is shifting, from New York having an early budget (historic) to merely an on-time budget (still, pretty darn impressive).
There are two factors holding up immediate passage of the budget, which legislative leaders agreed to on Sunday.
First, the details of the budget are still being worked out. No, seriously. At the time of Sunday's deal, granular details like which school districts are getting how much money, weren't yet made public. Cuomo, at the time, acknowledged some issues were still being worked out.
Secondly, state law requires bills to "age" for three days before lawmakers vote on it, ostensibly giving them enough time to actually read the massive documents before voting on it.
In the past, governors used a "message of necessity" to circumvent the "aging" requirement. That meant rank-and-file lawmakers would get thousands of pages of legislation hours, sometimes minutes, before voting on it.
On Sunday, Cuomo was asked about using the "message of necessity." Around the 36:45 of the video from the press conference, Cuomo said, "There may be one required, especially if we want to get one [budget] done early."
Update: Liz Benjamin said it looks like Cuomo "will have to" circumvent the aging requirement to get the budget passed on time. And, presto, he has. The New York State Senate tweeted they just got the message of necessity from Cuomo.