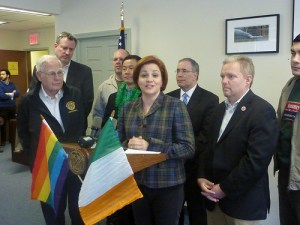 NYC Council Speaker Christine Quinn says she won't march in Staten Island's St. Patrick's Day parade anymore because, for the first time, they barred participation from LGBT parade-goers.
Quinn, who is Irish and openly gay, made the announcement Sunday surrounded by NYC Comptroller John Liu, Public Advocate Bill de Blasio, Manhattan Borough President Stringer and others, before the start of the all-inclusive St. Patrick's Parade in Sunnyside, Queens.
Referring to the other parade on Staten Island, Quinn said an LGBT group sought permission to march from the events' organizers. At first, they were allowed to march, but without any LGBT signage.
"Eventually, even the offer to march in a way was taken off the table all together and there was no invitation," Quinn said of the would-be marchers.
After announcing she and her colleagues would boycott that parade until it allowed LGBT participants, I asked Quinn if it was wrong for Mayor Bloomberg to have marched in it.
"Everybody makes their own decision," she said. "Don't Ask Don't Tell has been repealed. The military is no longer discriminating against LGBT people but yet parades in New York City are. It baffles the mind."
Then, Stringer stepped forward.
"I think the mayor had a wonderful opportunity to be here with us and not march, and that would have sent the clearest message," he said. "As influential as we are, the mayor does set the tone for this city. He would have moved this debate forward to recognize that."
Quinn said the people barred from the parade – Staten Island Pride – did not call for a boycott of the event. When asked, Quinn said the mayor was not explicitly invited to their press conference, but was aware of it and, as a matter of routine, "always welcome to anything we do."
Liu attended a pre-parade breakfast on Staten Island, but did not march. He warned that such parade policies lead to worse, and possibly harmful events. "The lack of inclusiveness that ultimately, inevitably that leads to far worse things" like "intolerance" and even "hate crimes," he said.
De Blasio said "there is a certain sadness" in having this debate, which has been fought for nearly two decades. "But I do feel some hope," he said.
The announcement brought together nearly all the leading 2013 mayoral candidates and presented a united front among the city's leading Democratic figures. Not in attendance was the all-but-announced 2013 mayoral candidate Rep. Anthony Weiner.
An aide to Weiner said he did, as in years past, march in the Staten Island parade alongside openly gay legislator, Assemblyman Matt Titone, but doesn't march in the larger St. Patrick's parade in Manhattan.