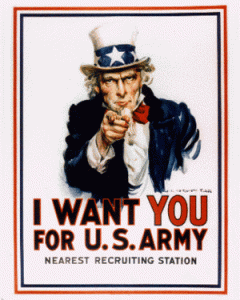 This week marks the 8th anniversary of the War in Iraq, and Harlem Congressman Charlie Rangel commemorated the occasion by asking Congress to reinstitute the military draft.
This marks the fourth time that Rangel, a proud Korean War vet, has submitted legislation that would require all Americans to sign up for the draft after turning 18. Each time the bill has failed. Rangel's stated hope in pressing the issue is that it would discourage politicians from launching future wars.
Writes Rangel to his colleagues: "The test for Congress, particularly for those members who support the war, is to require all who enjoy the benefits of our democracy to contribute to the defense of the country. All of America's children should share the risk of being placed in harm's way. The reason is that so few families have a stake in the war which is being fought by other people's children."
Needless to say, this attempt too seems likely to fail.
Full letter to his colleagues below:
Universal National Service Act

From: The Honorable Charles B. Rangel

Sent By: Butch.Johnson@mail.house.gov

Date: 3/15/2011

SUPPORT THE UNIVERSAL NATIONAL SERVICE ACTJoin as Co-sponsor – To Be Introduced Thursday, March 17, 2011.

Dear Colleague: The test for Congress, particularly for those members who support the war, is to require all who enjoy the benefits of our democracy to contribute to the defense of the country. All of America's children should share the risk of being placed in harm's way. The reason is that so few families have a stake in the war which is being fought by other people's children. If there were a Universal National Service Act, there would be no shortage of troops to fill the ranks without repeatedly deploying the same exhausted troops over and over. I urge you to support my legislation for the Universal National Service Act as a co-sponsor.Requires all persons in the United States between the ages of 18 and 25 if called upon by the President during a declaration of war, a national emergency or a military contingency operation to perform national service for a minimum of two years with few exceptions.

Cuts down the number of deployments for active duty and reserve military units who now see multiple deployments during the course of their enlistment due to troop strength shortages.

Provides a National service to work education, health care, ports, security and other services as deemed necessary by the President.

Benefits us ALL as Americans by helping ensure the United States is ready to protect and respond to our nation's needs at home and abroad at times of peace, national emergency or war if necessary.

The question of whether we need a Universal National Service Act will be important as long as this country is placing thousands of its young men and women in harm's way. We make decisions about war without worry over who fights them. Those who do the fighting have no choice; when the flag goes up, they salute and follow orders. I urge each of you once again to cosponsor this bill as I bring it to the floor for legislation. If you have any questions or would like to cosponsor, please contact Butch Johnson at 225-4365 or Butch.Johnson@mail.house.gov. Sincerely,CHARLES B. RANGEL Member of Congress