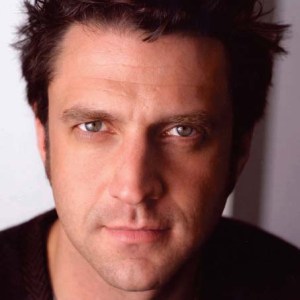 Raúl Esparza was waiting for fried chicken and talking about the mystery of existence. "The most beautiful thing about the play, and what moves me every night, has to do with humanity's search for something greater than themselves," he said. "Some sense of fitting in, whether it's in time, whether it's a sense of history."
He was discussing Tom Stoppard's Arcadia on a day off from rehearsal for the David Leveaux-directed revival of the play, in which he's starring along with Billy Crudup. That night would be the fourth preview performance.
"That we exist beyond ourselves," he continued, picking at a multigrain roll at 44 & X, a restaurant on 10th Avenue he'd suggested because he was craving its chicken. "That it goes on beyond us, further away than we can imagine. And that we've only just scratched the surface of what we're capable of and the way the world or the universe or anything works. Even love. That everything is full of mystery, and that mystery is worth exploring, even if you fail at it. Because your contribution lasts. The fact that you were here is a permanent sort of experience, of energy, etched in the world. And I love that about the play."
Mr. Stoppard is a demandingly intellectual playwright; his Coast of Utopia, which Lincoln Center Theater presented four seasons ago, spent nine hours over three evenings considering philosophical debates in pre-revolutionary Russia. Mr. Esparza is an actor who likes to grapple with ideas. His most memorable performance was as Bobby, the magnetic cipher at the center of Company, Stephen Sondheim and George Furth's cerebral musical about love and life among neurotic New Yorkers; he has since played in Pinter and Mamet and Shakespeare.
Arcadia, which debuted in London in 1993 and premiered here two years later, takes place at a grand English country house and interweaves a story about its 1809 inhabitants with one in the present day, about a historian and an academic researching the earlier period. It is about the relationships between past and present and order and disorder, about the limits of knowledge and the entropic reality that things fall apart. Mr. Esparza plays Valentine, the modern-day scion of the aristocratic family that owns the house, a graduate student studying the family's century-old hunting records in an attempt to devise a formula that describes population growth among grouse. (The play is also about math. And Newtonian physics and Byron and the history of English gardening, among other things.) When Mr. Leveaux directed a London revival two years ago, the Independent labeled Arcadia "perhaps the greatest play of its time."
"There's something that art can do that cannot happen, which is time travel," Mr. Esparza said. "The play proposes that these things all exist at once, and we can see it happen. I find that very beautiful." The chicken had arrived, a deep-fried boneless breast served, faux-Southernly, with a wedge of waffle and a small mound of collard greens. "I never thought about the play in the sense of any search for God, of looking for something so much greater than you are. But it struck me one day in rehearsals."
He quoted a bit of dialogue from the 1809 part of the play, an exchange between Thomasina, the precocious daughter of the house, and Septimus, her tutor: "Thomasina says to Septimus something like, 'You know all your equations, but Newton's equations only make arcs and angles. Armed thus, God could only make a cabinet.' Septimus says, 'Well, he has mastery of equations which we cannot follow.' And she says, 'What a faint heart. We must work outward from the beginning of the maze.'"
"I was suddenly so moved by that," Mr. Esparza continued. "Because I never really heard that before in the play. That everybody is looking for some version of God. It's man chasing the ultimate meaning of why we're here and what exists beyond us. And then everybody has some version of that in the story. Everybody. And Chloe"–the modern-era daughter–"says, 'Actually, the thing that drives us all is sex,' which is the bottom line of the whole story."
He was methodically working his way through his food while speaking intently and deliberately, leaning forward and focusing his green eyes on his interlocutor. Mr. Esparza is an excellent interview subject; he speaks thoughtfully, articulately and openly. He completes sentences and returns to conversational threads after tangential detours. He considers questions and thinks about his answers; he's not just another actor mouthing platitudes. (On the other hand, he is also an excellent actor, so perhaps he's just good at playing the interviewee.)