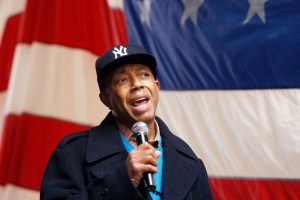 A few hundred people rallied against Congressman Peter King's upcoming Muslim radicalization hearings in Times Square yesterday, cheering a litany of interfaith speakers and carrying signs that said: "Today I am a Muslim too."
One person who wasn't in attendance: Mayor Michael Bloomberg.
Bloomberg has been a strong voice for tolerance of the Muslim-American community–most notably in his speech defending the so-called Ground Zero mosque–but yesterday, instead of attending the rally, he was marching in a St. Patrick's Day parade in Queens.
But the mayor's absence didn't bother Russell Simmons, the hip hop mogul and activist who helped organize the rally.
"I called the mayor and I asked him to attend this rally," Simmons told me. "And he said, 'Well, there's many things, there's the Irish thing, so I won't be able to make it today.' And I respect him for not being able to make it.
"But I think that the reason he's not here is that Peter King's got all that money. And the city needs that money. And he's being smart by not being here, but I know his sentiment. So he's here with us in spirit even if he's worried about Peter King's money. Because of course the head of Homeland Security has plenty of money for New York and we could use it. So he's a smart mayor for not being here. But his words were so clear on the mosque, his words were so clear in respecting the Muslim-American community, that I really admire him for it."
Simmons might be onto something. The Wall Street Journal reported this morning that Bloomberg and King met for dinner at Blue Fin on Saturday night, and while the proposed hearings didn't come up, King said the two did discuss federal funding for homeland security.