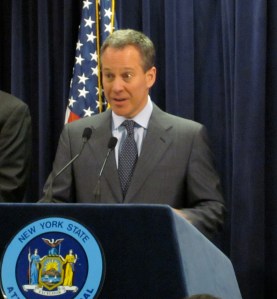 In the wake of the Nuclear Regulatory Commission's most recent report that puts one of the reactors at Indian Point Energy Center at as the highest risk from earthquakes of all U.S. power plants, Attorney General Eric Schneiderman wrote to the Nuclear Regulatory Commission calling for more thorough safety checks of the facility. Schneiderman said that a "full, open" investigation into the seismic safety of Indian Point has to take place before they get relicensed to operate for another 20 years.
"It is beyond troubling that at the same time the federal government acknowledges increased seismic safety risk at some nuclear power plants in this country, it refuses to fully and openly assess these specific risks to Indian point as part of its relicensing process," Schneiderman said. "Before any conversation about relicensing I concluded, the Nuclear Regulatory Commission must answer basic health and safety questions."
Schneiderman's letter questions the independence and effective validity of the NRC's safety reports, specifically because the reports do not require seismic activity to be tested. While the need for nuclear plants to be tested for seismic disruptions may look directly connected to the Japanese crisis, the issue has been on the Attorney General's agenda for some time.
"This office- starting with the activities of my predecessor, then Attorney General Cuomo- raised this repeatedly with the NRC, going back to 2007 and they have consistently refused to include seismic activity assessments of this kind of safety risk as a part of their relicensing procedure," Schneiderman said.
Units 2 and 3 of Indian Point are the currently operating portions, with 2013 and 2015 relicensing dates respectively. Unit 1 is no longer operational, but parts of Unit 1 were incorporated into Units 2 and 3, raising concern in the AG's office because those parts were never subject to, what they deem as satisfactory safety checks.
"These aging Unit 1 systems, structures, and components were built to inferior seismic specifications, and Unit 2 and Unit 3's continued reliance on these systems today poses significant safety questions," Schneiderman wrote in his letter to the NRC commissioners.
Indian Point's previous scores do not raise many red flags, as the plant received five consecutive high scores from the NRC from 2004 to 2009. The independence of the NRC and the effectiveness of their checks became an issue last November, however, when the plant was temporarily closed in late 2010 when there was a minor explosion in Unit 2, the cause of which is still unknown.
Congresswoman Nan Hayworth, who represents Westchester County where Indian Point is located, is not concerned about the quality of the Indian Point inspections.
"The Congresswoman is confident in the NRC's independent process and is confident in their ability to insure the safety of her constituents and all New Yorkers who rely on Indian Point for energy," said Nat Sillin, the congresswoman's spokesperson. "As a physician her number one concern is the health and safety of her constituency. Her staff has been in regular communication with Entergy [the company that operates Indian Point] and the NRC."
Though New York is not known for its catastrophic earthquakes, Schneiderman still feels that the possible threat is "not, by any means, science fiction" and serves as a larger wake up call for a serious interest in renewable energy.
"It's also time for us at the state and national level to immediate begin to developing a plan for alternative energy sources because the biggest argument they make is 'Oh, the plant may be in a horrible location but you can't shut us down because you need the electricity.' Well, we will need the electricity until we develop a plan for alternatives and that's something that needs to get going right away," Schneiderman said.