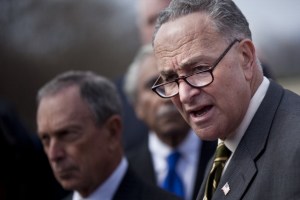 One of the many questions surrounding President Obama's intervention in Libya is: Who exactly is the United States backing by assisting in the fight against Muammar Qaddafi?
Some critics of the president's action, including Congressman Jerrold Nadler, have invoked the cautionary tale of the Taliban, which the U.S. armed to fight Soviet forces in Afghanistan.
Today, Senator Chuck Schumer offered one way the rebels might begin to prove their goodwill to the international community: by extraditing the convicted Lockerbie bomber Abdel Baset al-Megrahi.
"This should be straightforward and simple, if you get our support, we get al-Megrahi," said Schumer in a press release. "We are putting American lives on the line, and American taxpayers' money to use to protect Libyan civilians and, in effect, supporting the rebels so it makes perfect sense to insist that support for their cause is conditioned upon sending al-Megrahi back to prison where he belongs."
Al-Megrahi received a compassionate release from a Scottish prison last year, and his re-incarceration has been a cause of Schumer's ever since. Last summer, Schumer wondered whether the British helped secure al-Megrahi's release in order to receive favorable oil deals from the Libyan government.
Schumer has previously cautioned against expanding the U.S. role in the Libyan uprising.
"The Libyan opposition has an opportunity to show the world that the country is ready to join the international community and respects the rule of law," said Schumer. "Extraditing this known terrorist would be a significant step in that direction and I urge the administration and the State Department to predicate any material or diplomatic support for the opposition to their commitment to extradite this terrorist so that he can spend the rest of his life in prison."
Schumer included this letter to his former partner in the Senate, Secretary of State Hillary Clinton:
March 31, 2011

Dear Secretary Clinton:

I write to request that the U.S. Department of State condition any long term support or recognition of the Libyan opposition movement or the National Transitional Council of the Libyan Republic, on a public, enforceable commitment by the opposition to send to the United States Abdel Baset al-Megrahi, the Libyan terrorist convicted of the 1988 bombing of Pan-Am flight 103 that killed 270 people, including 189 Americans, so that he may be tried and convicted in an American criminal court.

On December 21, 1988, Pan Am Flight 103, en route from London's Heathrow Airport to New York's John F. Kennedy International Airport, exploded over the town of Lockerbie, Scotland, killing all 259 on board and 11 people on the ground. Many New Yorkers were among the 189 Americans killed in the bombing. In 2001, after thirteen long years, Abdel Baset al-Megrahi was convicted of murder and sentenced to life imprisonment.

Al-Megrahi was released by the Scottish Government on August 20, 2009 after serving eight years in prison for the 1988 attack on Pan Am Flight 103. The Scottish Government claimed the release was a compassionate gesture given al-Megrahi's failing health and he was purportedly expected to have three months to live. There is considerable and well-founded doubt surrounding both this diagnosis and the events that led to al-Megrahi's release from prison. As of March 2011, almost two and a half years after the diagnosis of terminal prostate cancer was made in September 2008, al-Megrahi still remains alive and media outlets have reported that he has been living at his family's lavish villa.

On March 17, 2011 the United Nations Security Council passed Resolution 1973 with a 10-0 vote and five abstentions. Resolution 1973 sanctioned the establishment a no-fly zone and the use of "all means necessary" to protect civilians within Libya. Additionally, in the last month, the United States has mobilized a strong international coalition, secured an international agreement to protect civilians, prevented the advance of a deadly army, established a no-fly zone and worked to prevent the massacre of innocent life in Libya. The U.S.'s firm commitment to protecting innocent life in Libya should be held into account by any future Libyan government-and the opposition movement that has demonstrated its goal to live in free and accountable Libya must demonstrate its commitment to justice by ensuring that a global terrorist like al-Megrahi lives out his days in prison, not in a luxurious villa.

I thank you for your attention to this important matter, and am eager to work with you to ensure that justice is done and that the families of the victims of this atrocity can see that their government is doing everything it can to ensure a public, enforceable commitment by the Libyan opposition to send to the United States Abdel Baset al-Megrahi, the Libyan terrorist convicted of the 1988 bombing of Pan-Am flight 103 that killed 270 people, including 189 Americans, so that he may be tried and convicted in an American criminal court.

Sincerely,

Charles E. Schumer

United States Senator