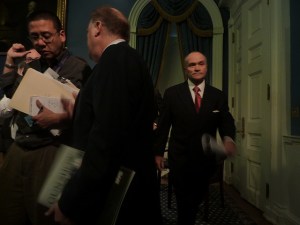 Senator Schumer took a moment out of advocating for bus regulations to reiterate his desire to see NYPD Commissioner Ray Kelly appointed the new director of the FBI when Robert Mueller's term ends in September.
Schumer reminded the press corp who assembled on the City Hall steps this morning for his bus announcement that the Kelly recommendation was prompted by a reporter's question this weekend.
"I think there could be nobody better than Commissioner Kelly," Schumer said today. The Senator said he spoke with Kelly recently and "I said he could continue to serve this country by serving, by accepting this position."
Schumer declined to relay what Kelly said in response.
Kelly's ability to tackle anti-terrorism responsibilities while also keeping street crime levels down undoubtedly makes him an appealing candidate.
But there are a few criticisms to his prospective candidacy: arrests of RNC protesters in 2004; and his desire to keep a database of people stopped-and-frisked by police, but never charged with a crime.