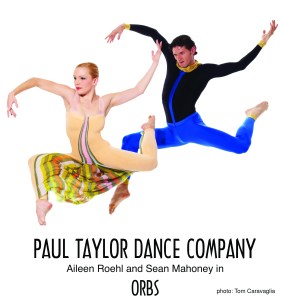 The tremendous achievement of the Paul Taylor season that just ended was the revival of his 1966 masterpiece Orbs. It must be his longest work–it's in two parts, split by an intermission–and it's been revived only once before, in 1982. This is a magisterial piece–an astounding summing-up by a choreographer barely in his mid-30s, set to his most daring choice of music: the late Beethoven string quartets. Only a supremely confident young man could have embraced this formidable challenge.
Orbs also provided Taylor with one of his greatest roles: His character is the Sun (in a white unitard, decorated with silver stars), and around him revolve the planets and moons. He presents them–the planets in two male-female couples, the moons four ravishing girls in shimmering Alex Katz costumes–and proceeds to instruct, nurture, discipline and cherish them.
The four sections of Orbs represent the four seasons, beginning with "Venusian Spring," in which he demonstrates the ways of sexual love to his celestial brood. (They learn fast.) On to the confrontational "Martian Summer"–set to the formidable Grosse Fuge.
When, after the intermission, we find ourselves down to Earth and among mere humans, it's at an autumn wedding. Everyone's in brown. The Sun is now the solemn, yet occasionally sly, minister. The bride and her bridesmaids and her conventionally weeping mother are our old friends, the female planets and their moons. We recognize the male planets in the groom, frantic with nerves–obsessively checking his hair, his tie, his fly–and his best man. The wedding takes place, there's a nutty outdoor feast with an outlandish roasted bird flung about, and there's much fluttering from the women, with their affectionate homage to and parody of the girls at another wedding, the one in Graham's Appalachian Spring. (Graham at this period was never far out of Taylor's mind.)
And then we're back in the heavens, for the most beautiful and resonant passage in the entire work–"Plutonian Winter." The orbs are deadened, life has drawn to a halt. Here we're reminded of the plangent sadness that informs another of Taylor's finest works, Sunset. The planets, their moons at their feet, are isolated in their separate muted spotlights. (Exceptionally striking in her desolation is the magnificent Amy Young, holding the most beautifully posed and poised balance I've ever seen. She's frozen in her stillness–secure beyond secure.) The now-dimmed Sun presides.
Paul Taylor may be a pessimist, but he's not a sadist, at least not here. Winter, too, passes, and he brings the Sun and its satellites back to life and harmony in a reaffirming whirlwind of a coda. (It's like the coda to Don Giovanni when normal existence resumes after the Don's descent into Hell.)
The outpouring of invention in Orbs is endless, its felicities countless–no wonder Arlene Croce referred to it as "perhaps the most charming work in the modern dance repertory." Because the Taylor season was cut from three to two weeks this year–the City Center is again shutting down for repairs, and nothing can be allowed to interfere with the Encores series–Orbs was presented only twice. Let's hope we don't have to wait another thirty years to see it again.
In one of his two new works, the traditional "light" one, Taylor has stuck it to us again. Or to put it more graphically (and literally), he's given us the finger. (That's Robert Kleinendorst giving it to us, in the guise of a drunken bum who lurches into Phantasmagoria late in the game.) But Taylor's been giving it to us–or to the history of dance–from the word go, in this series of benign jabs at various dance modes down through the ages.
He begins with a peasanty mob out of Breughel with their kerchiefs (girls) and cod-pieces (boys) roistering as if trapped in a bad production of Carmina Burana. (Is there any other kind?) Here are the "East Indian Adam and Eve," parodying the kind of Asian dance which all too often parodies itself. There's the Byzantine nun having too much fun with a large, stuffed green snake. (Is this a nod to Martha Graham's Medea ballet, Cave of the Heart? Or to Graham's Embattled Garden, in which Taylor himself played the snake?) There's the Irish step dance, put in its place by the comical (and African-American) Michelle Fleet. Here come the silly, gauzy Isadorables floating around in clouds of white. Finally, here's Michael Trusnovec infecting the whole crowd with St. Vitus' dance. And let's not forget the Renaissance music, played in all-too-authentic period-instrument mode. Taylor's having fun at everybody's expense–he's earned the right.