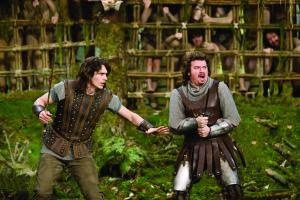 Desert Flower
National Geographic
March 18
Aside from George Michael's "Freedom '90" video and its vamping supermodels, the model-turned-actress concept does not have an illustrious history. Naomi Campbell played a phone-sex operator in Girl 6, Tyra Banks a bartender in Coyote Ugly, Cindy Crawford–of all things!–a lawyer in the thriller Fair Game. It looked as though a model might never make good onscreen, until Liya Kebede had the bright idea of playing another onetime model, the Somali activist Waris Dirie. Ms. Dirie's story is an inspiring if challenging one–she was sold into marriage before fleeing Somalia, then gained catwalk fame before becoming a U.N. spokeswoman against female circumcision. It's good to see a model like Ms. Kebede playing to her strengths, and doing something slightly more consequential than Coyote Ugly. 
Arthur
Warner Bros.
April 8
The resistible rise of Russell Brand continues apace with yet another comedy built around his gifts of "saying mindlessly provocative things" and "having an accent." (No American star can do both at once, it's true!) In this remake of the 1981 film, Mr. Brand takes Dudley Moore's title role, as a wealthy heir about to be cut off from his family's fortune; in the movie's one lateral move, Helen Mirren replaces John Gielgud as Arthur's stern caretaker. This film will be an interesting test of Mr. Brand's stardom–his previous comedies were successful enough because of the Judd Apatow brand, but here Mr. Brand stands on his own. Hopefully he, too, won't get disinherited.
Meek's Cutoff
April 8
Oscilloscope
The stars of Meek's Cutoff–Michelle Williams, Bruce Greenwood and Paul Dano among them–are barely recognizable under shrouds of Oregon Trail dirt or (in Ms. Williams' case) puffy bonnets. The film drags Ms. Williams' wagon-train party on a mad journey through the desert, led by real-life trapper Stephen Meek (Mr. Greenwood). Ms. Williams' last collaboration with director Kelly Reichardt was the dry woman-in-trouble yarn Wendy and Lucy, and this production is a chance for the pair to expand their palette to include shades beyond Ms. Williams swallowing hard and veiling deep sadness–or else to do more of the same in a different setting.
Your Highness
Universal
April 8
Natalie Portman can't retroactively change her mind, post-Oscars, about starring in Your Highness, though she might wish she could–the stoner comedy, set in medieval times, seems the quintessential post-Oscar stinker, taken directly from the Gwyneth Paltrow-flight-attendant-romantic-comedy mold. The person here with the most to gain post-Oscars, though, is James Franco, who needs the opportunity to prove he's funny again after a squinting, dazed performance as co-host. Here, as Mr. Franco reteams with Pineapple Express director David Gordon Green, his squinting dazed-ness is the point. The title, you see, has a double meaning. Who'd have guessed that Ms. Portman's "It's my turn!" outburst at the end of Black Swan would mean that it was her turn to cash in on a stoner comedy?
Midnight in Paris
Sony Pictures Classics
May 20
Woody Allen's past half-decade is comparable to a prolonged semester abroad–he's had some great experiences (Vicky Cristina Barcelona), some fun nights out early on that seem lamer in retrospect (Match Point) and some travesties where Mr. Allen must have just felt lost and confused and ready to go home (last fall's You Will Meet a Tall Dark Stranger). Midnight in Paris sends the director over the Chunnel to Paris, where Rachel McAdams and Owen Wilson perform in what is being billed as a romantic comedy. As with all of Mr. Allen's films, pre-release details are scarce, but Carla Bruni-Sarkozy has a cameo in the film (she's this year's Marshall McLuhan!). The casting of Ms. Bruni-Sarkozy proves it yet again: As with all students overseas, Mr. Allen's infatuation with his surroundings outstrips its interest to friends back at home. 
Red Riding Hood
Warner Bros.
March 11
Who's afraid of the big bad wolf? Not Catherine Hardwicke, the director who launched a thousand Twi-hards with her big-screen adaptation of Stephenie Meyer's lusty YA juggernaut. With Red Riding Hood, Ms. Hardwicke ventures once again into dark, mythical territory, but don't expect something as pedestrian as a simple trip to grandmother's house (especially when Grandma is played by a 69-year-old Julie Christie). With a cast led by Amanda Seyfried as a medieval beauty whose village is terrorized by a werewolf, and Gary Oldman as the mysterious witch hunter summoned to put an end to the bloodshed, this grown-up fairy tale is poised to dominate the market for highbrow horror.
Hanna
Focus Features
April 8
Saoirse Ronan (The Lovely Bones) stars as the titular character in this thriller, directed by Joe Wright, about a young girl raised by her ex-C.I.A. agent father (Eric Bana) to become an expert assassin. When Hanna embarks on a mission across Europe, trailed by an intelligence operative (Cate Blanchett, in what is hopefully a role more subtle than her ludicrous K.G.B. agent from the last Indiana Jones installment), she grapples with the existential angst that comes with being a teenage hitwoman. We have high hopes that Ms. Ronan, who's been a riveting screen presence ever since her breakthrough performance under Mr. Wright's direction in Atonement, will make the most chilling assassin since Anton Chigurh (but with better hair).
Thor
Paramount
May 6
Those of us who remember Vincent D'Onofrio's smoldering, pre-bloat turn as "Thor," an auto mechanic who ignites a little girl's imagination in the '80s kidnapping caper–and Elisabeth Shue vehicle–Adventures in Babysitting, may not feel the need for a new version of the Marvel superhero with the unwieldy weapon. But it's May, which means the summer blockbusters are coming, with Thor leading the pack. Aussie newcomer Chris Hemsworth takes on the mantle of the Norse god with the magic hammer, and Anthony Hopkins tries to redeem himself after The Rite in the role of King Odin–with a golden eye patch, no less! Oh, and guess who plays Thor's scientist lady love? Natalie Portman. Thank God–it's been forever since we've seen her in anything.
Bridesmaids
May 13
Universal
Runaway Bride. Father of the Bride. The Princess Bride. Bride of Frankenstein. We could go on, but everyone knows that in Hollywood, bridesmaids have been, well, always the bridesmaid. No more. Director Paul Feig and producer Judd Apatow, creative collaborators since Freaks and Geeks, team up again on Bridesmaids, a raunchy comedy led by Maya Rudolph and Kristen Wiig (who also co-wrote the screenplay). The early buzz is that this is a sort of Hangover for the ladies–an attempt to make the boy's club of gross-out humor coed. The last movie that attempted this feat was 2002's cringe-worthy The Sweetest Thing. Let's hope Ms. Wiig and Co. raise the (open) bar.
The Tree of Life
May 27<b
r />Fox Searchlight
Details about Terrence Malick's fantasy-drama The Tree of Life (the famously unprolific director's first film in more than five years) have been murky so far, but here's what we know for sure: It starts in the Midwest of the 1950s. Brad Pitt plays Sean Penn's dad, but he doesn't have Benjamin Button disease again–Mr. Penn is his son in the future. Mr. Penn's character is a "lost soul," and the film will explore themes of truth, beauty, faith and other vague but admirable virtues. The poster that's been released shows a newborn's foot, which suggests that the tree of life might be like the circle of life. So, like The Lion King, but live action and without Elton John songs.