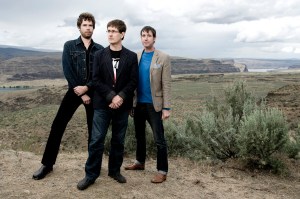 The Strokes
Angles
March 22, RCA
And we thought a career based upon ripping off Television couldn't last. The saviors of New York rock–or of New York trust-fund-kid hauteur–faded away after their little-loved First Impressions of Earth in 2006. In the interim, Julian Casablancas made a solo record; Albert Hammond Jr. made two; Fabrizio Moretti started a new band and finally ended things with Drew Barrymore. It's impossible to guess what public opinion will do with Angles, but the album's overstuffed first single, "Under Cover of Darkness," sounds like the band at its best and its worst. There are moments of tight yearning and moments of loose, what-goes-here decompression–less angular than flabby.
The Mountain Goats
All Eternals Deck
March 29, Merge
John Darnielle's rotating troupe's 18th album–its first on Merge Records–sounds grim, and not merely because four tracks were produced by death metal icon Erik Rutan. Mr. Darnielle compared the album to scenes in a 1970s "occult-scare movie" and cited influences like fake drug memoir Go Ask Alice and cult gang-war classic The Warriors. With such spooky inspiration, we're beginning to understand just why Mr. Darnielle tends to pick up and shed bandmates.
Britney Spears
Femme Fatale
March 29, Jive
The long, strange trip of Britney Spears continues, with her new album, Femme Fatale. Ms. Spears has had Forrest Gumpian success in the pop music industry; without exerting any effort, she emerged (or was forcibly dragged) from pink-wigged mania back onto the charts just as dance music was returning to the mainstream. It's hard not to miss the utter lack of persona in Ms. Spears's 2007-era output when hearing her 2011 single "Hold It Against Me," in which a humorless singer attempts to recite a raunchy pun. And yet longtime Britney fans–are there any other kind?–shall be sated until the star's next flickering emergence in two years.
Wiz Khalifa
Rolling Papers,
March 29, Atlantic
The Pittsburgh rapper says his album title doesn't–at least not solely–refer to marijuana. "I sort of got my 'rolling papers'" from Warner Bros., Mr. Khalifa has joked. While his memory is surprisingly long for someone who so chronically uses … Twitter (Warner Bros. dropped him before the release of his last album, in 2009), it's exciting to consider what Mr. Khalifa could do with a record label behind him. That is, if he can find another single with as much staying power as the Steelers-themed "Black and Yellow." Maybe a Pittsburgh Pirates single?
Low
C'Mon
April 12, Sub Pop
The nearly un-Google-able Duluth, Minn., band is nearing the start of their third decade–they got started in 1993, when their soft, slow melodies in the age of grunge inadvertently kicked off the mini-movement "slowcore." They haven't wandered too far from their roots: What's available online sounds methodical and quiet as ever, though devoid of the explicit political resonances from the band's last record, Drums and Guns. Apolitical, perhaps, but still willfully out-there–the record was made in a Catholic Church in Duluth.
TV on the Radio
Nine Types of Light
April 12, Interscope
Dear Science, TV on the Radio's last album, came in at No. 1 on The Village Voice's year-end Pazz and Jop poll. The band broke through with audiences, too, even getting a poorly sound-mixed spot on Saturday Night Live. What's left for them to achieve? Post-stardom, it would seem: Their new album's cover doesn't feature the band's name. They're now so distinctive–though early tracks lack the weird blats of sound that made Dear Science so much like itself–that they don't need your simple-minded conventions!
Paul Simon
So Beautiful or So What
April 12, Concord
The venerable guitarist returns with his first album since 2006, and is presumably feeling, well, his venerability: The first single is titled "The Afterlife." Simon's been popular, cyclically, but has he ever been hip? His flirtations with world music (no word yet on what country inspired this album) are earnest, his depiction of a double helix on the So Beautiful album cover daddishly nerdy. The apocryphal reports that Mr. Simon had asked cool older brother of rock Bob Dylan to guest on the album are encouraging. Adopting some of Mr. Dylan's swagger (while still singing more comprehensibly) can only help Mr. Simon.
Panda Bear
Tomboy
April 12, Paw Tracks
Opining on this delayed release from Animal Collective mainstay Panda Bear (née Noah Lennox), the music blog Stereogum said the album's cover "would make a decent tattoo." While covering a record-listening party for Tomboy, The Village Voice wrote, "Panda Bear fans are the Justin Bieber fans of the indie universe." His songs "kind of have this weathering the storm attitude to them," Panda Bear told Rolling Stone. To what storm is he referring?
Fleet Foxes
Helplessness Blues
May 3, Sub Pop
Fleet Foxes seemed like they'd tire everyone  out quickly. The Seattle band's blend of folk and choralish harmonies just barely works artistically, and does not spell sales bonanza (hark, the lessons of pop choir the Polyphonic Spree!). Somehow, the band has thrived and is about to release a second album that frontman Robin Pecknold has said is inspired by Van Morrison and Roy Harper. Changes come all at once sometimes: The band also has a new member taken from the wreckage of two post-punk bands. Fleet Foxes' vision of itself is apparently as capacious as any of the band's songs.
Lady Gaga
Born This Way
May 23, Interscope
The chattering classes were scandalized by Lady Gaga's anxiety-of-influence rip-offs of Madonna's "Express Yourself." What matters, though, is that Ms. Gaga hasn't forgotten how to grab attention. It's tough to criticize Ms. Gaga–she preempts all criticism not by being self-aware, but by constantly upping the ante with her crass stunt artistry. Who knows what other "surprises" this album cycle will hold? Give her credit for this–it took Madonna seven albums to get into weird extraplanetary spirituality, on Ray of Light. With Ms. Gaga's birth-of-an-alien "Born This Way" video, she got there in three.