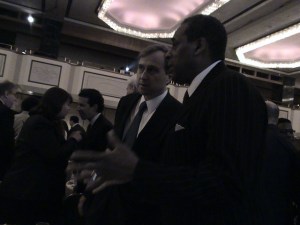 The New York State Republican chairman isn't apologizing for recruiting Steve Levy into the governor's race last year, despite Levy's announcement yesterday he's settling an investigation by handing over his entire campaign account to a local prosecutor and not seeking another term in office.
"I haven't had a chance to look at what's involved," said the GOP chairman, Ed Cox, who is swinging through three upstate cities today, after raising money in Florida yesterday.
"I do know you don't have the kind of thing like [State Senator] Carl Kruger," he said, "who had 54 criminal complaints, where it's absolutely clear he's accused of taking a million dollars in bribes. There's nothing like that here," said Cox.
Cox went on to defend Levy's record of fiscal management, and spoke about him as someone whose governing style should be duplicated.
"Steve did a great job for Suffolk County; this guy is a real fiscal conservative who not only stood for fiscal conservativism, but pro-growth principles," said Cox. "That's what the state needs and certainly he's done a very good job for the taxpayers of Suffolk County."
Cox said Levy "very much belonged in the Republican fold and he wanted to run for governor and he certainly had the qualifications for that."
When I asked if Cox wanted to see Levy run for governor again, Cox paused briefly. "I'm not sure what the future holds for Levy because he said he wants to return to private life. But he certainly was a good fiscal conservative, a good pro-growth county executive and he served his county very well. Those really are the principles of the Republican Party in New York State" and "those are the principles that people of New York State would benefit from."