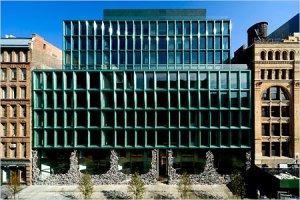 There are plenty of wild real estate tales in New York, but one of the more unusual ones popped up in New York back in January. A London-based family owned a three-bedroom pied-à-terre at 40 Bond Street, the delightful love letter to cast-iron living designed by Herzog & de Meuron for Ian Schrager. They had bought the seventh-floor condo in 2007 for $6.4 million. They loved the place so much, two years later, they purchased a one-bedroom one floor down for $2 million.
New York explained the purchase thusly: "It was to be something of a pied-à-terre for their existing pied-à-terre–a place to host guests, throw parties, and escape from the four kids slowly annexing the apartment above." Curbed put it a little more bluntly: "Today's Proof That Life's Not Fair: Family Owns Two 40 Bond Condos."
How cruel a world, then, that said family now owns three homes in the building?
According to city records, Candy Jar LLC–the same entity that bought the one-bedroom–just paid $5.6 million for a ninth-floor two bedroom. "Generously proportioned 38 ft. x 17 ft. great room with wood-burning fireplace designed by the architects," declares the listing from Douglas Elliman's Dennis Mangone. "Floors, kitchen, and master bathroom finished in Austrian smoked oak treated with natural oil. Master bathroom includes wet room in seamless Corian embossed with the building's signature graffiti pattern."
Mr. Mangone declined to discuss the sale. "I don't want to talk about my neighbors at Bond," he wrote in an email.
The seller is NYC Bond LLC, which records trace back to Ella Fontanals-Cisneros, whom W Magazine called "Miami's art-scene queen." It so happens she helped lead the effort to build a new Miami Art Museum designed by none other than Herzog & de Meuron.
Her apartment appears to be an investment gone bad, as the unit was purchased in April 2007 for $5.45 million and listed the next day for $7.2 million with Corcoan. It languished on the market before being picked up in January 2009 by Mr. Mangone, when he was at Brown Harris Stevens, for $6.5 million. That makes for a $150,000 profit, which would hardly cover Mr. Mangone's commission.
As for the buyers, their identity remains a mystery. Given that that first condo was purchased by 40 Bonbon LLC, and New York mentions that they hail from England, perhaps it is a Cadbury heir or some other purveyor of sweets. Yet what is even harder to unwrap is why buy three separate apartments, none of which are aligned and could thus not be combined?
Clearly someone could not resist another Schrager cream egg.
Read past Manhattan Transfers. >>