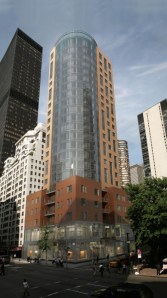 In case those Krav Maga sessions don't go as planned, MedRite Urgent Care is opening a medical clinic upstairs at 919 Second Avenue.
"Basically, anybody can walk into the door and get a quick treatment," Winick Realty's Tatiana Jung-Voevodina told The Observer. "You can even do the blood tests and get results within five to 10 minutes."
But finding a space that could accommodate that wasn't easy. "It took a long time between both parties negotiating," the broker added. "I was in Europe, so it was a lot of conference calls."
The landlord agreed to do a build-out of the space, and the asking rent for the 15-year lease with a five-year option was around $200. Now that it's "up and running, it looks fantastic," said Ms. Jung-Voevodina. She said the location was also ideal, with its combination of residential and office neighbors, and its proximity to the U.N.
"There are no major hospitals or medical centers in the area, so this is something the community really needed," said Douglas Kaiden, one of the doctors at MedRite, in a statement.
Ms. Jung-Voevodina and Lori Shabtai represented the owner Samuel Fisch and the landlord.
lkusisto@observer.com