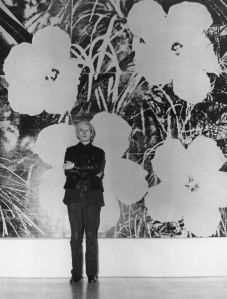 Wednesday, March 30
Coffee Talk
We're betting Tina Brown likes her coffee the same way she likes her copy: "V. v. hot!" Guests will find out tonight as the High Beastess herself throws a private book party at her Upper East Side townhouse for Starbucks CEO Howard Schultz's memoir, Onward (we hear it's full of beans). Expect plenty of Ms. Brown's beloved "buzz"–especially after those lattes start flowing. … Meanwhile, Rob Pruitt will reveal his Andy Monument, a larger-than-life-size statue of the late Pop pioneer Andy Warhol, in Union Square near where the Factory was once located. Chloë Sevigny-who was 12 when Andy died but seems as good a choice as any-will perform the unveiling, which is to be followed by a private cocktail reception and dinner for the likes of happily married Peter Brant and punky princess Hope Atherton (we hope she never grows up!).
Tina Brown residence, private event begins 6:30 p.m.; Unveiling of The Andy Monument at Broadway and 17th Street, 6 p.m., private cocktails near the old Factory, 6:30 p.m., dinner hosted by Interview magazine in Union Square, 8:30 p.m.
Thursday, March 31
Making Bank
Turns out Muhammad Yunus, the Macher of Microlending, is also a movie star. Screening for one night only, To Catch a Dollar, a documentary about Mr. Yunus' attempts to bring his style of teensy-weensy loans to Queens, in 2008, will unspool at two theaters, under the auspices of Screenvision. Yes, this is also the service that brought moviegoers Suzanne Somers talking about her vitamins for two hours! The Nobel Peace Prize winner was recently relieved of his duties at the institution he founded, Grameen Bank, so if he's looking for a new home, we hope he'll consider New York. We spent all our money at Starbucks–Tina told us to–so maybe he can float us a little scratch?
Chelsea Cinemas, 260 West 23rd Street; 86th Street Cinemas, 210 East 86th Street; both screenings begin at 7:30 p.m. with taped appearances by Suze Orman, Matt Damon, Hugh Jackman and others; go to tocatchadollar.com for tickets.
Friday, April 1
Tokyo Stories
We can hardly believe the multiple tragedies unfolding in Japan right now. And yes, it seems a very awkward time for a tribute to "five Japanese divas" of the silver screen. But Film Forum's long-planned series offers numerous reminders of the nation's incredible resilience, not to mention the sublime beauty of its movies. The series begins tonight with Kenji Mizoguchi's Life of Oharu, a heartbreaking 1952 melodrama starring Kinuyo Tanaka. After the movie, head up the street to the Maritime Hotel, where Matsuri restaurant is hosting the Sachiyo Ito dance company. Ten percent of the restaurant's proceeds go to the Japan Society's Japan Earthquake Relief Fund.
The Life of Oharu plays at 1:10, 4:20, and 7:30 Friday and Saturday at Film Forum, 209 West Houston Street, buy tickets at filmforum.org or at the box office. Matsuri, 369 West 16th Street; Sachiyo Ito performs in 20-minute sets, go to dancejapan.com for more information.
Saturday, April 2
Le Geek, C'est Chic
Somewhere along the line-probably around the time we elected a new-media billionaire mayor-we became a city of geeks. The whole town! (We hear Lady Liberty is even sporting a pocket protector.) Last month, we all lost our heads anticipating Rupert Murdoch's iPad app-then, appetite sated by the bananas-looking weather page, we went back to flinging little birds around and cultivating virtual corn. Now the Brooklyn Academy of Music is taking it to the "next level" (gamer humor) with a two-night festival of the music from Final Fantasy. Yes, the video game. (Think Super Mario meets Pagilacci.) Premium tickets, which are going for $175 (almost enough for your very own real-life Sword of Nero!), include a meet-and-greet with the game's composer and the conductor as well as that Comic-Con hallmark: an autograph opportunity.
BAM Howard Gilman Opera House, 30 Lafayette Avenue (Brooklyn), Friday and Saturday at 8 p.m. (two-night program), tickets available at ffdistantworlds.com (BAM ticketing policies do not apply).
Sunday, April 3
Damn Yankees
Baseball's opening day was Thursday (we know, you were busy trying to secure that microloan), and today the Yankees conclude their opening series against the Detroit Tigers. Warning: This is an athletic event. Some people-you know who you are-find such displays to be mindlessly absurd. But if you find yourself dragged to a sports bar, remember this: It's also a human drama. We hear Minka Kelly's boyfriend is playing. … Speaking of human drama, mega-miniseries The Kennedys begins tonight on ReelzChannel-and if you get ReelzChannel, welcome to the most exclusive party in town! The show was booted from the History Channel for not being historical enough-or was it too historical?-but who cares! You'll come for the year's most tragic and protracted game of dress-up (Katie Holmes is Jackie Kennedy) but stay because you lost the remote!
Yankee Stadium, 1 East 161st Street (the Bronx), game begins at 1:05 p.m., tickets available at yankees.com; part one of The Kennedys airs at 8 p.m. on ReelzChannel.
Monday, April 4
Some Turnout!
The weather's finally getting halfway decent, but some like it cold, right? At least, so hope the good people behind the Skating With the Stars benefit in Central Park, which helps fund Figure Skating in Harlem. High-rollers can join the likes of Evan Lysacek for a ladies'-choice whirl around the rink. Too bad our ankles are weak-we'll have to sit in the stands, sipping hot cocoa with co-chairs Kenneth Cole and the Tisches. … Meanwhile, the National Dance Institute's well-trained tykes show off their pliés to donors at its annual gala. The event honors a bunch of corporate types-and Alec Baldwin (who plays one on TV)-for their commitment to the arts.
Skating With the Stars, Wollman Rink, Central Park, 6 p.m., call 212-675-9474 or visit figureskatinginharlem.org for details; National Dance Institute Gala, Best Buy Theater, 1515 Broadway, cocktails at 6 p.m., dinner and performance by the children of National Dance Institute at 7 p.m., call 800-807-1787 or visit nationaldance.org for details.
Tuesday, April 5
Scotch, Neat
We still owe Mel Gibson a debt of gratitude-loony-bird that he is–for igniting the whole men-in-skirts trend (bless his little Braveheart). Gibby won't be attending the the "Dressed to Kilt" fashion show tonight-we promise! Instead, Sir Sean and Lady Connery (yes, there's a Lady Connery) will host the knee-baring runway peepfest. Kyle MacLachlan, our pick to replace Charlie Sheen, is dropping by, along with celebrities ranging from quasi-Scottish (Mike Myers) to not-Scottish-at-all (model Selita Ebanks). And for the kiddies, Gossip Girl's Matthew Settle will be modeling, too. Publicity–it knows no tartan!… Meanwhile the Brits (Scots' sworn enemies) will be recalling their own glories at a Lincoln Center gala for the opening of West End wonder War Horse. The show is followed by dinner with the cast and Steven Spielberg's producers Kathleen Kennedy and Frank Marshall, surely taking notes for Mr. Spielberg's film adaptation. Who knew the Great War was so much fun?
Dressed to Kilt, Hammerstein Ballroom, 311 West 34th Street, cocktails at 7:30 p.m., fashion show at 9 p.m.; for tickets, go to dressedtokilt.com or call 408-206-6051; War Horse Gala, Lincoln Center Theater, 150 West 65th Street, 6:30 p.m. performance, 9 p.m. dinner with cast, 10:30 p.m. "carriages" (or depart
ure).
Wednesday, April 6
Poetic Justic
The FSG Reading Series–a two-author evening for which we can thank current Paris Review party boy-in-chief Lorin Stein–welcomes former Poet Laureate Robert Pinsky and Maggot man Paul Muldoon (that's the title of his latest book; we actually think he's lovely) to the Russian Samovar. "The space itself is so appealing-it's a good place to spend a couple hours," co-organizer Mark Krotov told us. "And the vodka doesn't hurt." (Don't worry, it's infused, so no hangovers!) The FSG organizers take the authors out to dinner afterwards as thanks; stay in the hood and you might be able to chew over free verse–or your favorite limerick!–with Mr. Pinsky. (Stalkery?)
Russian Samovar, 256 West 52nd Street, bar opens at 6:30 p.m., reading begins at 7 p.m., $5 entry fee
ddaddario@observer.com :: @DPD_