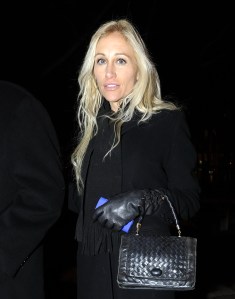 Last summer, outside the Starbucks on Second Street and Covina Avenue in the Belmont Shores neighborhood of Long Beach, Calif., Catarina Toumei stepped out of a beat-up car and made her way to a coffee shop. She had just driven two hours from San Diego to meet with a man named Wolfgang Baron von Hildebrandt. The bearded singer-songwriter and self-proclaimed human rights activist was looking for someone to help him in the PR push for his forthcoming single, "United Nations Song."
Ms. Toumei introduced herself to the balladeer as "Lady Catarina" and began to regale him with tales of her upcoming trip to Monte Carlo and Cannes. The talk didn't interest Mr. von Hildebrandt, who after all just needed a publicist. But something was amiss about Lady Catarina. For a titled member of ostensibly European nobility, Ms. Toumei drove an improbably crappy car. She claimed that the battered jalopy, which was damaged at every corner, was a rental. Her jeans and bleached-blond hair didn't exactly scream "possible member of the landed gentry," either. And she was more interested in chatting about her continental connections and aristocratic title than what she would do to earn her proposed fee of $3,000 to $4,000 a month, though Mr. von Hildebrandt had a feeling she needed the money.
After the meeting, Mr. von Hildebrandt emailed Ms. Toumei asking for a résumé. None came. The potential partnership fell through, but that didn't stop Ms. Toumei from listing Mr. von Hildebrandt as one of her "clients" on her Web site, bestsellingwriter.net. It was a small lie on top of a few others–the "rented" car and the pretension to royalty–and one in a long string of fabrications and exaggerations that would ultimately culminate in her arrest on charges of conspiracy to commit fraud by claiming to sell, among other things, a billion dollars' worth of diamonds purportedly belonging to the Guggenheim family. The complaint alleges that Ms. Toumei, along with her co-defendants, Vladimir Zuravel and David Birnbaum, falsely claimed to be members of the famous family in order to "gain access to highly regarded and/or wealthy individuals."
It's generally unwise to impersonate people, but it's hard to imagine a riskier selection than the Guggenheim family, whose patriarch, Meyer Guggenheim, made his fortune in mining and smelting during the 19th century. The family's imprimatur can be seen on art museums in Berlin, Abu Dhabi, Venice, Bilbao and New York. Meyer's descendants have gone on to take their own respective places in American history. His son, Benjamin, died on the Titanic; Benjamin's brother Solomon is the namesake of the Frank Lloyd Wright-designed art museum on the Upper East Side; Benjamin's daughter Peggy was instrumental in aiding the careers of Jackson Pollock, Salvador Dali, Mark Rothko and many others. Fellow Meyer descendant Harry Frank Guggenheim served as the ambassador to Cuba and co-founded Newsday.
Another reason not to step on Guggenheim toes: Out of the family's private wealth management office has grown New York- and Chicago-based Guggenheim Partners, a $100 billion-plus privately held asset manager with offices in 20 cities across the globe, from London to Singapore. One of the Guggenheim heirs is a managing partner. And they don't take well to impostors.
The many mundane falsehoods that surround Ms. Toumei make it difficult to pinpoint what parts of her life, and which people in it, are authentic. Nevertheless, after consultation of public records, her college yearbook and people who know her, even a skeptic can justifiably believe the following: Catarina Toumei was born Rina Nastopka on Sept. 12, 1966. She grew up in Maryland and graduated from the University of Maryland-College Park with a B.S. in journalism in May of 1987. Also true: Ms. Toumei was married three times: once to a tax attorney; once to a Presbyterian minister turned mortgage broker; and once to a real estate investor. (According to court documents, she falsely claimed to be married to John Ratzenberger of Cheers; according to emails obtained by The Observer, she also claimed to be an ex-fiancée to Prince Albert of Monaco.) The marriages, combined with Ms. Toumei's own penchant for self-reinvention, resulted in a slew of name changes. Rina Nastopka became, by turns: Rina Anastopulos, Rina Nastopela, Rina Twomey, Catarina Twomey, Catarina Frederick, Catarina Toumei and finally, at least for the time being, Lady Catarina Toumei. In keeping with the ostentatious evolution of her name, Ms. Toumei's fanciful online self-portrait crackles with astounding achievements and high-powered connections. On her personal Web site, bestsellingwriter.net, and her LinkedIn profile, she attests to a smattering of impressive achievements–enrollment in graduate programs at Georgetown University and Fuller Seminary, jobs on Capitol Hill and at CNN, not to mention the title of Lady, bestowed on her "by European Royalty, for her humanitarian efforts." On the Internet, Ms. Toumei held herself out as an "Investment Relations Manager and Equity Research Specialist," who in her spare time did both journalism and PR work "for a handful of individuals internationally."
Of the 24 "Current & Previous Clients" Ms. Toumei lists on her Web site, some (like CNN, Hilton Hotels, KUSI-TV and Coldwell Banker) cannot verify that she had ever done any work for them. Others (the Rancho Santa Fe Review, a newspaper based in the wealthy suburb of San Diego where Ms. Toumei resides; Patrick Rummerfield, a former quadriplegic who willed himself to mobility; the peace-loving Mr. von Hildebrandt; and Ohio State Treasurer Josh Mandel) deny it outright.