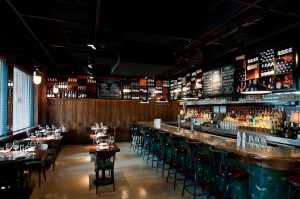 Not long ago Burger & Barrel opened in Soho offering $25 truffle burgers as if the Great Recession were already over (or perhaps it never began). But reality comes roaring back, with news that lenders have sought to foreclose on the restaurant's home and are marketing the loan for $8.5 million, The Observer has learned.
The red-brick, Thomas O'hara-designed building at 25 West Houston Street was completed in 2004, and purchased by Metropolitan Housing Partners, according to city records. The retail condo was subsequently sold to Soho 25 Retail LLC, registered to troubled developer Urban Residential. The CMBS loan from Bank of America originated in 2006, according to an offering memorandum obtained by The Observer.
But it all started to unravel after beloved wine bar Centonvini shuttered; then other tenants in the building started trying to renegotiate their rents. The borrower went into bankruptcy, and the lender move to foreclose on the space (the case is in a Brooklyn court). The loan is being sold by CW Capital Asset Management and is being marketed by Mission Capital Advisors' Will Sledge and Scott Myers.
The space is now fully occupied, also including a Jamba Juice and an Italian lighting store. Best of all, of course, is the American-style pub with those exquisitely overpriced burgers-—started by the culinary whizes behind Lure Fish Bar John McDonald, Josh Pickard and Josh Capon. Plus, with news that Soho retail condo values are rising (including a nearby $2,500-per-square-foot on the market at 210 Lafayette Street), it looks like the rebound might have happened a few minutes too late; or just in time, depending on what side of this deal you're on.
UPDATE: A previous version mistated that the loan is already in foreclosure. The borrower, in fact, delayed foreclosure by filing for bankruptcy.
lkusisto@observer.com