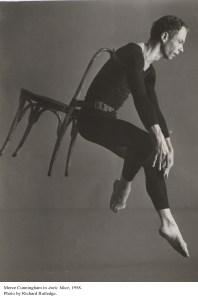 It's a famous image. Merce Cunningham, chair strapped to his back, suspended in the air, somehow peaceful, not a hair out of place, effortless. His signature: the eerily calm upper torso. The image is from a dance called Antic Meet. It's a 1958 collaboration between Cunningham and his close friend, artist Robert Rauschenberg, staged to the music of Cunningham's longtime lover, John Cage. It will be performed in New York by the Joyce Theater this month for the first time since 1969, and, in some ways, for the last.
The Cunningham company, hewing to Cunningham's wishes that the troupe  not become a "museum" to his work (he passed away in 2009), will be disbanded at the end of the year. The first of their final hometown performances is March 22 through March 27 at the Joyce, and the company is looking forward to it in a bittersweet way. Some of the last dancers to be trained by Cunningham himself will perform. "It is especially rewarding to perform for audiences in the city he called home," said Trevor Carlson, executive director of the Cunningham company.
Within the dance world, the reappearance of the historic work is keenly awaited. Wendy Perron, editor of Dance magazine, has looked forward to seeing Antic Meet for years, she said. The idea that "'anything is possible'–that was the original flavor of the stuff that Merce did."
Indeed, looking back, Cunningham created the first postmodern dance. His performers' bodies were toned to perfection as in ballet, but they moved in a vacuum, without meaning, symbols or overt theme. In Antic Meet and other pieces, they danced around Rauschenberg's "combines" to the non-music of John Cage. The trio's alliance was among the great collaborations of 20th-century art.
Cunningham met Cage in 1938 when the latter was playing piano accompaniment for the dance classes at a Seattle school. Cage was married at the time, but the two men eventually came to live together in New York. Rauschenberg worked with both of them at Black Mountain College (a now legendary mid-century artistic cauldron) in North Carolina in 1953, and he introduced them to Jasper Johns, who was his downstairs neighbor, lover and sometimes collaborator. Johns went on to serve as an artistic advisor of the Cunningham dance troupe. The four lived in New York in the 1950s at a time when the new arts scene was undergoing a revolution. Hanging out at Greenwich Village bars, casting the I Ching and drinking together, they formed a clique of artists and intellectuals that overthrew the status quo.
Antic Meet, when it was created in 1958, was something of an inside joke. With costumes (described as "zany") by Rauschenberg, Antic Meet attempted "to satirize the more foolish mannerisms of the Graham dance theater," wrote New York Times critic Alistair Macaulay. This was what Cunningham represented to dance: the departure from Martha Graham, the departure from narrative, lyricism and gesture. All this was replaced by "chance operations," as Cunningham called them, and collaboration between movement, music, visual art and design,
But few artistic partnerships last forever. There was a falling-out: Rauschenberg's comment that the Merce Cunningham Dance Company was "his biggest canvas" reportedly offended Cage, and other clashes over everything from punctuality (the artist was apparently always late) to more weighty matters led to their separation for some years. During those years, Rauschenberg "cheated," designing sets and costumes for Paul Taylor and Trisha Brown. But the men would collaborate again in their later years on such works as Interscape, Travelogue and, lastly, XOVER (crossover),a 2007 work Rauschenberg designed the sets for, a collage of photographs and blood-red arcs and slashes of paint.
In conjunction with the Antic Meet performance, original Rauschenberg costumes and artwork and archival footage from many Cunningham-Rauschenberg collaborations will be exhibited at the Rauschenberg Foundation's new West 19th Street space, opening March 21. The John Cage Trust has provided sound from Mr. Cage's Essay (1987) as well.
"It will almost be a snow globe," Christy MacLear, executive director of the Robert Rauschenberg Foundation, said of the show. "We want to celebrate the range of his work." Many people do not realize that Rauschenberg did his own experimental performances, says Ms. MacLear, including pieces featuring turtles with flashlights strapped to their backs. The exhibit will feature archival film of many of Rauschenberg's "performance-related works," and the original costumes from Antic Meet. "It's not something you can sell in a gallery," said Ms. MacLear.
Rauschenberg, artistic adviser to Cunningham's company from 1954 to 1964, arguably contributed more to dance than any other visual artist (Antic Meet's "parachute dresses" will be included at the exhibit). When Cunningham first began to tour, fresh out of Black Mountain, Rauschenberg stage-managed his performances. The pair collaborated on numerous works, including Minutiae, for which Rauschenberg's first "combine" was created, as well as pieces central to the development of postmodern dance, such as Summerspace and Crises.
Cunningham worked with other visual artists as well, hiring Johns in 1964 and later English artist Mark Lancaster. CRWDSPCR (1993), also set for the performance at the Joyce, was made in collaboration with Lancaster and with the aid of a computer program. Cunningham, never set in his ways, began using a computer in 1991 and employed it for all of his choreography after 1991. The program in its earliest forms presented an interesting challenge for Cunningham (and his dancers): It did not understand physical constraints.  The result is a frenetic, mechanical-looking dance, one that absolutely requires the precision and technical prowess for which Cunningham dancers are known. Quartet (1986), a dance for five, with a score by David Tudor, is also on the program. The dance evokes isolation and estrangement, and Mr. Cunningham himself originated the role of the alienated central figure.
The Joyce, a stalwart dance organization which has nurtured "downtown" dance–smaller, less established companies doing work closer to the margins–for the last 30 years may also be in its twilight. Its lease, under the terms of which it currently pays $1 a year, is up in 2016, and a planned move to the World Trade Center area is looking increasingly untenable due to stalls in fund-raising and building. Talks between Eliot Feld, the Eighth Avenue theater's owner, and the Joyce Theater Foundation over who will retain the Joyce name continue. Mr. Feld rejected offers from the nonprofit to buy the space.
So this season is the last time MCDC performs at the Joyce, and the last time any of these works will be performed in New York City by MCDC. "It's the end of an era," said Ms. Perron.