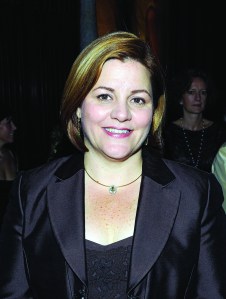 Christine Quinn slid into a city-owned black SUV waiting outside of the Waldorf, pushing aside a stack of books on Irish history that blocked an aisle. It was St. Patrick's Day, and Ms. Quinn, one of the city's most Irish of pols in both ethnicity and aspect, had been at it since 7 a.m., passing out books at an Upper West Side subway stop, appearing at Gracie Mansion alongside Mayor Bloomberg and greeting Lieutenant Governor Robert Duffy at the Waldorf's V.I.P. room. Later she would head to the White House for a reception with President Obama, but now she was on her way to a boozy party at TGI Fridays.
Settling into her seat, Ms. Quinn pulled out a container of Greek yogurt and offered a bite to her 83-year-old father, Lawrence, her outreach coordinator to "Irish, unions, old people, veterans and Catholics." "Good for belly fat," she said, before noticing the yogurt was long past its expiration date. She made a face and tossed it aside.
The car zoomed though midtown traffic, avoiding streets blocked off for the two million people expected to attend the annual St. Patrick's Day Parade. Since organizers forbade rainbow triangles and equality flags, Ms Quinn, the self-described "44-year-old woman who is beyond out of the closet and largely comfortable with her sexual orientation," had refused to join.
"Originally, they didn't like the idea of a banner," she said. "O.K., fine, let's not all get our panties in a bunch over a banner. We can move beyond. Let's have sashes. You don't want sashes, we could have a sticker. We could have a pin."
Ms. Quinn was once considered a front-runner to be the next mayor. In 2006, she had just become the unexpected speaker of the City Council. She smartly latched on to Mike Bloomberg's agenda while he was enjoying sky-high approval ratings. But in 2008 the City Council became embroiled in a budgeting scandal. Three council members and two staffers have been indicted so far, and Ms. Quinn was blamed for not keeping a more watchful eye over her charges. Then Mr. Bloomberg and Ms. Quinn worked to overturn the city's popular term-limit law, which further alienated New Yorkers.
Now, among the political chattering classes, Ms. Quinn is thought to be a long shot, someone too close to the mayor to be palatable to a Democratic primary electorate. Labor and progressives have won both of the past two contested Democratic citywide elections, and installed one of their own, Eric Schneiderman, as the state's attorney general. And to them Ms. Quinn has become a kind of pariah.
"Who voted in the last election?" said one political operative. "The really partisan Democrats who are still seething mad and not getting any happier about the extension of term limits."
Ms. Quinn has gone from a lefty's lefty, one whose first job was as a tenant organizer, into business' favorite Democrat mainly because as speaker of the City Council she is one of the few political actors in town who actually has to choose between competing, often equally valid options, each with its own vocal constituency. Her political life is increasingly a tightrope-between business and labor, tenants and developers, between pleasing a still-powerful mayor and those clamoring for someone to curb him. In the past year alone, Ms. Quinn came out against the opening of a Wal-Mart store, permitted a living-wage bill to go forward and killed a bill that would require small businesses to offer their employees paid sick leave, even though a majority of the Council-those members to whom Ms. Quinn owes her job-supported it. Afterward, her potential 2013 rivals excoriated Ms. Quinn for turning her back on working people. Even Gloria Steinem piled on.
"Ms. Quinn is someone that I thought would be an advocate for people, but it turns out that she is more interested in trying to position herself for a run for mayor," said Norman Seabrook, the head of the Correction's Officers Union. "But you have to remember-the same people you meet on the way up are the people you meet on the way down. I don't think there is any labor leader in town that will tell you they have a relationship with Ms. Quinn."
Ms. Quinn said that the bill would hinder job creation.
"It was an unbelievably noble goal. Who wouldn't want to be associated with having done that," she said. "I knew no matter which decision I made, there were people who were going to be disappointed and people who were going to be angry."
She added, "If I told you it didn't bother me at all, that would be a load of bullshit, because of course it does. Who likes to have people saying not nice things about you? Who likes to have your colleagues be disappointed and angry? No human being likes that."
Ms. Quinn's advisers say the doubters are wrong. Yes, they acknowledge that the last two City Council speakers to run for mayor got crushed, but they point to her advantages, particularly her popularity among the financial and real estate sectors.
"She could act like some legislators and rant and rave whichever way the community's wind is blowing. She doesn't," said Kathryn Wylde, the head of the Partnership for New York City, a business advocacy group. "She is trying to find the right policy solution, like Cuomo is doing and like Christie across the river is doing."
So fundraising should not be a problem for Ms. Quinn. And in political terms, real estate and Wall Street hold sway over the editorial boards, which in turn can make Ms. Quinn more palatable to middle-class voters, the kind who voted for Mr. Bloomberg in the general election but could be persuaded to get to the polls in a Democratic primary, especially if it meant keeping a flame-throwing lefty out of City Hall. Ms. Quinn will likely be the only woman in a primary where around 60 percent of the electorate is expected to be women, and her status as one of the most prominent LGBT politicians in the country could turn her campaign into a movement (although her advisers say that they do not expect Ms. Quinn's sexual orientation to be a major part of the campaign).
"It's the Bloomberg, Koch, pro-business moderate coalition, combined with Manhattan liberals, gays and women," said one Quinn adviser.
Ms. Quinn's team hopes to turn her record of making tough decisions into an advantage-the only person who has been battle-tested and who has stood up to the various special interests.
"Every single voter understands that being the mayor of the city of New York is a tough job," says another adviser. "They want to know that you can say no to your friends, and are not going to do things just because they are politically easy."
The day before St. Patrick's Day, Ms. Quinn gave a sermon at a church downtown. Even in the middle of the day, the pews were filled with city workers. Ms. Quinn told the story of St. Brigid, a patron saint of Ireland. She talked about "the reality of women in the household," that "they are the ones, really, who are often doing the protecting, who are doing the watching over everything and making sure that everything moves forward and everyone is taken care of." Unlike other politicians, she didn't slip into preacher mode-she didn't drop her "er's" or sound like anything other than the Long Island girl she is. She threw in a few quips. But she totally had this group with her. Some waved their hands. A few stood up. "Speak it," one shouted.
Before she left, the pastor asked all the congregants to stand up and raise their arms. She led them in a loud, hand-clapping, foot-stomping rendition of "Hail to the Chief." Ms. Quinn beamed and walked through the procession, then out of the church and back out into city.
dfreedlander@observer.com