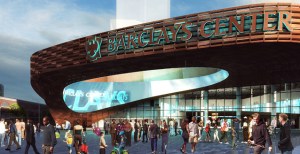 First they came and started building a basketball arena.
Then they came to build a Whole Foods.
And now? Now they're trying to build a lounge that plays—dare we say it—hip-hop music. Well, maybe. Or at least that's what some Park Slope residents seem to think, and a few of these concerned citizens are circulating an online petition to try and convince the restaurant/bar/lounge Prime 6 to embrace indie rock.
"Seventh Ave has ZERO venues for live music by indie artists, and is absolutely ripe for the right type of establishment to come along and breathe life into the live music scene. The business owner who is able to do THAT will reap financial rewards far beyond what they could hope to earn by selling Henessey/etc to basketball fans after a Nets game," writes the apparent petition-starter, Jennifer McMillen. McMillen stipulates she is "not generally the type of person that speaks up," right before denouncing the Prime 6 as another "Yo MTV Raps 'bling-bling' vip club."
Since this morning, the amount of signatures has blown up from 15 to 145. Though, in true online petition form, most of the signatures are false, lest The Observer be led to believe Whitey McWhite is a real person.
Curbed called Prime 6 the first signs of arenafication, the process by which a neighborhood goes from Brobo paradise to the populace not being able to "swing a dead Flyers fan … without hitting a sports bar," much like the situation outside Madison Square Garden on any given game night. But there are already a good number of bars in the area around the corner of Flatbush and Fifth avenues: at least 21 in a half-mile radius by our count—several consider themselves sports bars and others are described as "boisterous" or "bustling" on their Google Maps entries. Some have live music, a few jazz and blues. One was described in a review as "a great place to do a car bomb."
That's not to say that just becaues Prime 6 is opening and other area bars are getting makeovers that the "arenafication" is done with—just because O'Connor's added a floor doesn't mean they're going to be able to house all 18,000 estimated basketball fans post-game.
What this does mean is that the NIMBYism is just beginning, and while we can't guarantee it's always going to be involve yuppies, an online petition and racist undertones, it should make for some interesting Community Board 6 meetings until the Nets tip off in the fall of 2012.
Unless you live in Park Slope.
mcoyne@observer.com