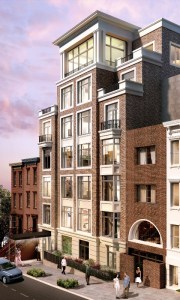 — John Livingston knows a thing or two about building in New York, seeing as how he runs one of the city's biggest general contractors, Tishman Construction. Perhaps this insider knowledge helped him knock $875,000 off the price of his new home, a discount of nearly 20 percent. Mr. Livingston and wife Susan just paid $3.625 million for a three-bedroom, three-bath co-op on a high floor at 1130 Park Avenue. The north- and west-facing apartment has a generous layout arrayed around an entrance gallery and enjoys views of the Reservoir. The seller was the Estate Of Sylvia G. Kaplan.
— Eight years ago, Vincent La Padula left City Hall to go work for JPMorgan. Yet he and wife Christine McKelvey, who runs the foundation of her late father Andy, the founder of Monster and a half-dozen other businesses, could not make a good investment out of their Upper East Side home. After buying a collection of four apartments at the 1923 La Bourgogne for $3.2 million in 2007, the couple has just sold the L-shaped duplex for $2.4 million, a 25 percent discount. The lucky buyer Marzia Precoda is a frequent attendee of Patrick McMullan photo galleries and wife of former George Soros partner Dale Precoda. Two years ago the couple sold their Sutton Place home to Kenneth Cole for $14.5 million.
— Ticketmaster is known for gouging, but the company's former president, Eric Korman, has managed to slash the price on his new pied-à-terre. The Los Angeles-based "Internet Executive" (that's what his LinkedIn says) and his wife Cynthia just paid $5.06 million for a four-bedroom, four-bath condo at 180 East 93rd Street. The three-year-old development is designed by Barry Rice to look like a mini-prewar building, albeit with all the modern, "green" amenities. The Kormans' fourth-floor, full-floor unit has two balconies and a windowed whirlpool tub and was initially asking $6.2 million.
— Ahoy! Philip Levine of Miami Beach has just dropped anchor at 525 Park Avenue, a 1989 condo conversion of a 1914 apartment building. Mr. Levine runs the Baron Corporation, a travel and real estate investment outfit, and appears on The Today Show as a travel expert (as the video below attests). His new two-bedroom, two-bath cabin cost $3.895 million, according to city records, above the $3.75 million ask. Coincidentally, the sellers, Joseph Melone, the former head of the Equitable Companies, one of the nation's largest insurers, and his wife Marie have just set sail for North Palm Beach.
Read past In Deed! coverage here. >>