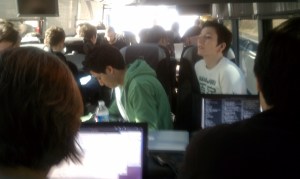 11:59 p.m. — The bus pulls into the Hotel Indigo in Atlanta. The hackathon continues in two rooms that have been reserved for overnight hacking but the live blog does not. New York Startup Bus coverage will continue tomorrow. Check out all the companies here.
11:22 p.m. — A Canadian company, Lemon Stand, says bus start-up Lemonade Stand, unincorporated and 17 hours old, is "creating brand confusion." Other start-ups with teaser pages include WhadIMiss and SpotOn Trivia. Trouble: Lemonade Stand getting reports that the referral links for their LaunchRock page are not working.
10:18 p.m. — Guerilla marketing tactics being discussed.
9:31 p.m. — Bye, Waffle House.
8:21 p.m. — The New York Startup Bus votes for Waffle House for dinner, with a roar. "But I'm not stoned!" one Peter Pan laments. "Does Waffle House have WiFi?"
7:16 p.m. — The 12-hour mark. Team Bridge, which is comprised of developers, shuns the idea of a blog and scoffs at its share price. "We're heads down." The Observer applies a spray-and-pray strategy and buys 30 shares in each New York company.
6:35 p.m. — Lemonade Stand, which is the most highly-valued start-up trading on the Startup Bus stock market at $2,201.43, already has a publicly-available A.P.I. that developers outside the bus could in theory use to build apps for the sapling company. Bridge ($1,011.86) had the first A.P.I., but it's not public. "We're pushing to Heroku right now. We're live," says team FixIt ($972.65). "But we're not so anxious that we need to tell everyone."
6:29 p.m. — We learn that teams on the San Francisco Startup Bus were given Snuggies by EBay. The San Francisco teams have also password-protected their MiFi hot spots so that each team's bandwidth is precisely rationed, which is "so douchey."
6ish p.m. — The Observer stumbles around the bus taking video, which will be posted whenever a stable internet connection is found.
5:50 p.m. — More live updates from the New Yorkers on the bus are on Tumblr. Sara Farmer (FixIt) bought a Super Mario blanket. Buspreneur flash bio: Biz dev on the bus; chief architect at the United Nations IRL.
5:45 p.m. — It was Cemre Güngör's first time in a Wal-Mart. "Number one, I felt like Donald Trump because I felt like I had the purchasing power to buy whatever I wanted, and number two, I felt tiny. I felt like if I stayed away from the group I'd get lost. And number three, all junk food was amazingly cheap. Fruits were super expensive. I guess no one ever buys fruit there. And they have dip with fruits. I understand dip with vegetables but why dip with fruit? They are already sweet. But it wasn't as bad as People of Wal-Mart." He's working on TripMedi, the medical tourism site.
4:50 p.m. — The bus stops at a Wal-Mart in North Carolina. Contrasts!
3:38 p.m. — Halfway through the first day, the New York companies are:
Bridge: Blank is blank for blank that unlike blank is blank. 297 shares at $1.03 for a total valuation of $306.70.
Check-In Trivia: Check-in and play. 648 shares at $1.04 for a valuation of $674.74.
FixIt: Open source civic engagement platform that helps cities fix themselves. 514 shares at $1.04 for a total valuation of $534.62.
Lemonade Stand: The neighborly commerce platform. 1009 shares at $1.04 for a valuation of $1,047.05.
TripMedi: Medical tourism you can trust. 633 shares at $1.03 for a valuation of $654.31.
WhadIMiss: Spark Notes for pop culture with 86 shares at $1.03 for a total valuation of $88.78.
3:08 p.m. — Flash crash: New York was #crushingit on the Startup Bus stock market, but the game is about to be reset as other buses are complaining that New York had a head start. The Observer lost $41 in the crash. Twilio developer John Britton lost $103.
2:33 p.m. — You can now "buy" "shares" in the companies on the Startup Buses.
2:27 p.m. — What should The Observer ask Alex Rainert about Foursquare 3.0? Tweet @adrjeffries.
2:22 p.m. — The start-ups are I.P.O.-ing in virtual market. Meet.me team, now Bridge, are listing themselves on the Startup Bus stock market with the description, "Bridge is a _____ for _____ that, unlike ____, ______s." "That's perfect. It's going to be baller."
2:18 p.m. — Hack in the fast lane: At least two companies expect to have a product by tonight. One has already pivoted. Lemonade Stand has decided equity terms.
2:12 p.m. — Check-In Trivia working on a new name as Foursquare is too possessive of the term "check-in." The Observer has a phone interview with Foursquare later this afternoon and will ask for suggested synonyms.
1:56 p.m. — The Awl on the Startup Bus: One Nuclear Bomb Will Ruin Your Whole Startup Bubble
1:38 p.m. — Buspreneur flash profile: Jon Gottfriend, baker of instant start-ups and brownies (60 of them, not instant). The architect of Startup X/Lemonade Stand.
1:32 p.m. — The Observer declines SXSW party invitations from Rachel Ray, Kid Rock and Jim Beam.
1:16 p.m. — Buspreneur flash profile: Cemre Güngör, Turkish/Finnish New Yorker already SXSW'ed out in a loud t-shirt and fulsome beard. "I went to Duane Reade and I got caffeine pills, sleeping pills and motion sickness pills," he said.
1:09 p.m. — You can see where the buses are in real-time at http://startupbus.com.
1:02 p.m. — Buspreneur flash profile: Organizer Justin Isaf, who does not have a Twitter account despite being a community manager by trade. "I'm the guy with no technical skills whatsoever; I'm kind of the warm gooey center that holds a team together," he likes to say. But: "I've been to eight hackathons, six of which were competitive, and won four." Decorated hackathon veteran chaperoning this bus.
12:50 p.m. — Buspreneur flash profile: Ben Gleitzman, faux-hawked Hunch engineer. He used to work at a Japanese factory that manufactured android robots; then he worked on Android at Google. Apparently Honeycomb (Android version 3) was almost called Doughnutburger.
12:17 p.m. — Buspreneurs have settled into teams, gotten comfortable and started building. One buspreneuer is already barefoot. All tentatively-named: Meet.me, an app for meeting strangers with common interests and contacts; FixMyCity, a government accountability app; What Did I Miss?, a blog/email newsletter of summarized content for the busy pop culture consumer; Lemonade Stand, an app for easily selling individual items; Check-In Trivia, an app for sponteneous trivia games. The Observer's favorite pitch, the Anti-Social Network, was passed over.
10:20 a.m. — There aren't enough back-end developers!
9:53 a.m. — Startup X/Lemonade Stand has their team set with two back-end developers, a front-end designer and an iOS developer. They're now attempting to recruit the Google engineer who's on the bus.
9:41 a.m. — The pitches are done; now the entrepreneurs have to convince other riders to join their teams. "So this is how this is going to work," coordinator Justin Isaf said. "Go!" T
he riders are now all clustered in the middle of the bus, pitching each other.
9:25 a.m. — A medical tourism site that helps you decide where to get your surgery. Features user reviews; could have a social recommendations aspect. "Your friend got a boob job; you should get one too."
9:20 a.m. — An app to hate on things. It suggests friends based on your common dislikes.
9:18 a.m. — Paraphrase: "I was talking to my friend Rob, and I was like, 'Rob, what pisses you off?' And he goes, 'my girlfriend.' So I'm like, 'what about your girlfriend pisses you off?' And it turns out Rob does not like having to sit through entire episodes of Glee while his girlfriend talks incessantly about it. Yet he wants to remain relevant to her." The product is CliffNotes for pop culture.
9:14 a.m. — The Observer receives a welcome email from Startup X: "Startup X Revealed:"
Dear Startup X-ers,

We departed from NYC about an hour ago at the obscene hour of 7AM EST and have just begun pitching our ideas and forming teams. You know what that means..Startup X is at least partially real – we have an awesome concept and a kick-ass team.

*drum roll*

Startup X is Lemonade Stand. What is Lemonade Stand, you ask? Well, right now it is purely an idea, but I like to think it's a revolutionary one.

Lemonade Stand is a hyperlocal commerce platform that aims to make buying and selling local goods as simple and beautiful as possible. Our goal, by the time we reach Austin at about 6PM on Thurday 3/10, is to develop an open commerce API and some amazing smartphone apps that make it surprisingly fun and easy to do local commerce.
8:57 a.m. — Buspreneurs are pitching their startup ideas, and other buspreneurs are trying to shoot them down. "The whole bar trivia thing isn't really monetized yet." Startup X turns out to be an app for individuals who want to quickly post items for sale: "Instagram meets Craigslist." One entrepreneur pitches the "Airbnb for food," the audience informs him that a similar service, HouseFed, already exists. "Oh," he deflates. "Acquisition!" somebody shouts.
8:38 a.m. — The riders are introducing themselves; "I'm a back-end developer," "front-end guy," "product guy," "technical dude, but I can pitch with the best of them." Two buspreneuers quit their jobs three weeks ago; one quit yesterday. Two native Australians (unrelated) introduce themselves in a row. "I'm also from Melbourne," the second says. "I probably should have timed this a bit better to increase the impact of that." The Observer would like a cigarette.
7:36 a.m. — We are given doughnuts. The bus departs. "We're going to Disneyland!" someone shouts. "We're going to Disney to build start-ups!" someone shouts back. There are four females on the bus (front-end designer, business development, community management and The Observer) and about 28 males.
7:14 a.m. — The bus has been idling for 20 minutes as we wait for straggling buspreneurs. One of the startups has already garnered 266 email address from this nondescript launch page, which reads:
Startup X is the next big pre-startup startup, being built on the NYC Startup Bus in March. There is no concept, there is no team, there is only the startup. And it's guaranteed to be good.
The emperor has no clothes!
6:30 a.m. — The Observer arrives at Dogpatch Labs. The buspreneurs are on the sidewalk, guarding their bags and a tower of Red Bull. We load and board.