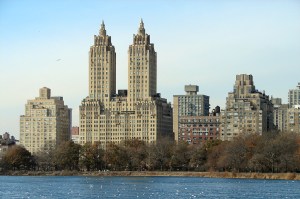 Emily Senay and Avery Seavy must be Tolkien fans, as they have traded a three-bedroom in the Majestic for a four-bedroom in the El Dorado, those well-known two-towered co-ops 20 blocks apart on Central Park West. Not only has the couple upgraded their space but their views, as well, moving from the back of the former building to the front of the latter.
Dr. Senay is a public health specialist who works and teaches at Mt. Sinai while also serving as a CBS medical correspondent since 1994. Among her recent segments was an Early Show piece on the importance of wearing sunglasses. Mr. Seavy is a developer who specializes in affordable housing, doing a good deal of his building in the Bronx.
The couple sold their old home on the eighth floor in just over three months, netting $5.7 million on the sale, $200,000 more than they were asking. The buyers, banker Andrew Senchak and freelance writer Barbara Case Senchak of Short Hills, N.J., are the proud owners of "this seven (originally eight) room apartment is fully renovated and is in mint, move-in condition," as Cathy Taub and Rosette Arons put it in their Stribling listing. "Both the living room and formal dining room are of a grand scale, conducive to entertaining, and have restored original walnut floors and prewar details."
The doctor and the developer are moving into John and Anne Lindow's old home, and have paid $7.55 million for the privilege, down from a first ask of $8.3 million from June. "With over 50-feet fronting the Park, this sprawling home offers more square footage than any other line in the building and is in move-in condition," brags Brown Harris Steven's John Burger in his listing. "With 19 windows spanning 4 exposures, the home is bathed in incredible light and offers beautifully preserved architectural detailing and pristine herringbone flooring throughout."
With a little bit of luck and a lot of money, the couple will trade up into one of the Time Warner Center towers one of these days.
Read past Manhattan Transfers here. >>