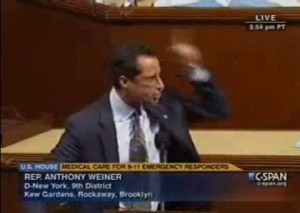 Yes, you read that headline correctly.
The occasion was a debate on Piers Morgan Tonight on Monday night over President Barack Obama's energy and Libya policy, and towards the end things got a little heated between the Queens congressman and the Manhattan real estate developer and (potential) presidential candidate.
Asked by Morgan if the U.S. should go into Syria, Weiner responded, "I am not president yet, although I think I have as much chance as Donald Trump does."
When Trump was asked to respond, he said, "If I were polling like Anthony were polling I would drop out immediately."
Shot back Weiner, "You will be dropping out soon enough, Donald, we both know it."
Asked if he would fact be dropping out, Trump cited polls that he said showed him doing very well, and added "It's too bad for him…I look at his polls in New York running for mayor he does very poorly, so I just wish him a lot of luck."
Responded Weiner, "I am the front-runner big guy, I am not sure you are even going to be around at the end."
Trump then told the congressman that if he wins, a lot of people would flee New York.
Take a look: