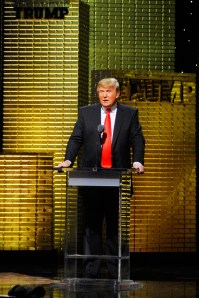 Last night at the Hammerstein Ballroom, a mixed bag of celebrities gathered to roast Donald Trump for a Comedy Central special to air March 15. Mr. Trump, who had said on the red carpet that he did the roast in order to get paid and funnel that money to charity, sat rather gamely on a stage bedecked with ersatz gold buildings and the Trump logo-even after Seth MacFarlane, roast master, said that his "resting face is 'who farted?'" Mr. Trump exaggerated his pout immediately. The Observer wondered: had Mr. MacFarlane ever stayed at a Trump property? "No, and I don't think I will–after this, I might get a room wired up to explode."
Mr. Trump, at least, knew how to make an entrance, had arrived onstage in a tricked-out golf cart that spewed one-dollar bills (though much fewer bills, surely, than Kanye threw at Fashion Week). Predictably, attendees leapt out of their seats to grab the money.
Among the roasters, Marlee Matlin was a surprise success onstage, speaking generally through an interpreter (though using her own voice when imitating a fellow roastee in the throes of passion). Previously, she'd told The Observer that while she was known for dramatic work, she felt as though she were "coming out of my comedy closet." Larry King's choice to present his monologue as though it were an episode of Larry King Live was a bit befuddling–but he got one of the most surprising digs of the night in when he threw to the not-in-attendance Anderson Cooper, "to see what she's working on."
Mike "The Situation" Sorrentino, whose nickname is now apparently buttressed by his real name in a bid for serious attention, did not fare so well. The question of whether each set of roasters must have a victim or whether the young man was really that bad a comedian may be debated for years, though Mr. Sorrentino was booed starting about halfway through his set. Jeffrey Ross rushed to the microphone to ask the audience not to boo, a kind gesture that went unnoticed by the crowd. "Good job," comedian Anthony Jeselnik, whose name was mispronounced all night, told Mr. Sorrentino nonchalantly during Mr. Jeselnik's act. Mr. Trump told The Observer that he thought Mr. Sorrentino had done a fine job. "He stepped out of his comfort zone," the entrepreneur said, sounding very much the mentor he plays on The Apprentice.
Lisa Lampanelli went the hardest at Mr. Trump, assailing his hair and his marriages. She'd told us that she only wrote comedy about people she liked: "That's why I'll never roast the French." For an insult comic, she sure seemed nice! We'd been worried she might insult us. "Of course not," she told The Observer, "you little intellectual Jew from Harvard!" (At least two of her facts were wrong, but the joke landed.)
ddaddario@observer.com :: @DPD_