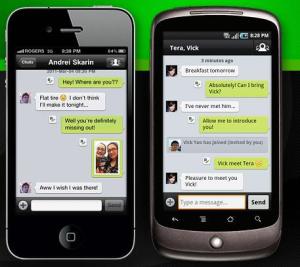 New York's GroupMe and Fast Society have been getting a lot of attention recently as competition heats up in the group texting market. But two of New York's most prominent venture firms have just chosen an app based in Waterloo, Ontario as their choice in this crowded field.
Union Square Ventures and RRE are participating in an $8 million series A round for Kik, with Fred Wilson of USV and Adam Ludwin of RRE taking board seats.
"There are no lack of startups innovating in this sector. In fact, there are a ton of them. It is a very crowded space and we have had the benefit of meeting with and getting to know many of the teams working in this sector," Wilson wrote on his blog this morning.
The choice for Wilson came down to the product and the team. "The Kik product is simple, fast, and elegant. It gets the job done and doesn't getin the way… We believe that less is more and that message delivery speed is paramount," Wilson wrote.
Kik is based on mobile push. Until today it was just for one to one chat, but Kik is rolling out groups and photos along with the funding announcement. And of course they are prepping something special in order to stand out at SXSW: Kik will be providing a free concierge service down in Austin that answers users' questions about everything from tech panels to fresh tacos via real-time chat.
bpopper [at] observer.com | @benpopper