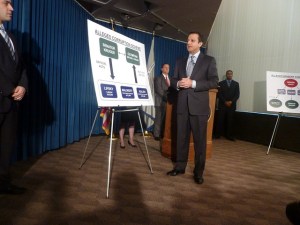 US Attorney Preet Bharara's case against State Senator Carl Kruger, Assemblyman William Boyland, lobbyist Richard Lipsky and five other defendants today is a run-of-the-mill bribery scheme. Two of them, actually.
In the first, Bharara alleges a friend of Kruger's set up "a shell company in the name of Olympian [which] wasn't engaged in anything other than receiving corrupt payments as part of this corrupt scheme."
Lipsky, a lobbyist, allegedly would get money from his clients, and then make payments to Olympian. Later, Kruger did things like "introduced legislation to help Lipsky's clients, directed state money to Lipsky's clients, lobbied other legislators to support causes that benefited Lipsky's clients, and even once wrote to a federal judge to oppose a lawsuit that threatened to hurt one of Lipsky's clients."
At the press conference in the lobby of the FBI's building in lower Manhattan, I asked Bhrara to explain the difference between effective lobbying and bribery.
He he said in this case, the defendants were "funneling money to the politician they were trying to get to engage in official actions.
"We are not alleging, 'here's a bunch of money, vote this way on a bill' " but rather "we are alleging something more broad [that the] defendants basically had Senator Kruger in this example, on their payroll to do their bidding while he was supposed to be serving the interest of the public."
Bharara also said FBI officials searched Lipsky's home and found "$106,000 in cash, $4,000 of which were in crisp, large denomination bills in Mr. Lipksy's suit pocket."
The implication, obviously, is that Lipsky was transferring large amounts of money in a way to avoid creating a paper trail. (The complaint says officials intercepted cell phone calls of Kruger, as well as "oral communications by use of a surveillance device, or 'bug.'")
In the second, related scheme, Boyland was given a no-show consulting job by a health care company called Medisys. When asked if any other legislators were on Medisys' payroll, Bhrara declined to comment.