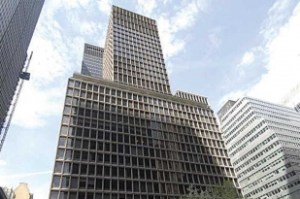 Vornado and SL Green, two of New York's biggest REITs, have agreed to buy $400 million in debt from Broadway Partners and Investcorp on the 1.2 million-square-foot complex at 280 Park Avenue.
Broadway and Investcorp bought the building for $1.2 billion in 2007, in one of the most expensive building purchases that heady year. In more recent news, the building is being threatened with 45 percent vacancy after Deutsche Bank left, and the NFL plans to vacate its offices there in less than a year.
According to Reuters, who first reported the story, Broadway and Investcorp financed the purchase with $1.1 billion worth of debt, including a $440 million mortgage. The rest of the debt was divided up into six pieces with SL Green holding onto four pieces and Vornado holding the smallest chunk. In their agreement, Vornado assumed $15 million of SL Green's debt position, which Vornado paid $111 million for.
mcoyne@observer.com