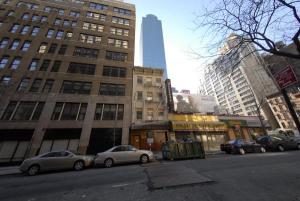 Loans on a stalled development site are being sold to investors with an appetite for four slices of the United Nations submarket.
The current owners had considered moving air rights from the two 45th Street properties to the two on 44th Street, offering nearly 75,000 square feet of potential development in a prime area for hotels and consulates. "The U.N. [market] is white hot and not a lot has traded," David Schechtman of Eastern Consolidated, who is selling the loans, told The Commercial Observer.
The total unpaid balance on the four loans is $18.75 million, according to a release, and they expire in January of next year. The interest rate is 7 percent.
The four mortgages cover unexceptional retail, residential and commercial properties at 844 Second Avenue, 302 East 45th Street, 303 East 44th Street and 305 East 44th Street, two of which are suitable for development. The site has reportedly been eyed for a luxury hotel or consulate, but a sluggish construction market has prevented plans from moving forward.
Correction: An earlier version of this article mistated that the unpaid balance was $7 million.
lkusisto@observer.com