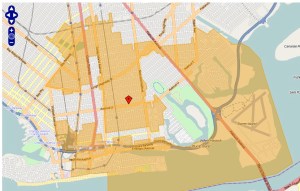 A conservative Democrat, apparently.
A political operative with no horse in the race says his own analysis of State Senator Carl Kruger's district confirms what Swing State has (albeit, with slightly different numbers). Swing State says the district – located next door to Coney Island, in Southern Brooklyn – is "the second-reddest seat in the entire state."
In fact, even though there are more registered Democrats than Republicans in Kruger's district (95,000 vs. 27,000), McCain beat Obama there (45,000 vs. 37,000).
In the district, there are "Russians and Jewish voters who register as Democrats, but their 'core values' tend to align with the Republicans," this operative tells me. The Advocate notes Kruger hasn't given up his seat (yet?), and that on the issue of same-sex marriage (which Kruger opposes), 6 more votes are needed for that legislation to pass the State Senate.