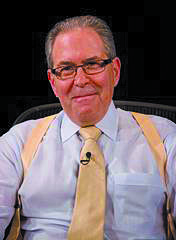 With commercial and savings banks dipping toes back into the financing waters, one asset class has gained more and more investor interest: development sites for residential apartments and hotels. Parcels of land, especially in Manhattan, are now selling at prices close to those achieved during the wild days of 2007.
It is hard to believe that less than 18 months ago, few if any commercial or savings bank would have entertained the financing of a parcel of land. The tide has turned and in certain instances lenders will provide up to 50 percent financing for a short-term loan.
"There is no land being built or created on the island of Manhattan," said Vincent Carrega, an executive managing director at Grubb & Ellis. There were few fresh developments in the city in recent years, with the result being pent-up demand for new construction. The city needs new apartments, office buildings and hotels, and for that reason, land has returned as a value asset class to own. "I would not be surprised to see some prime development sites sell for close to $400 per developable foot this year," Mr. Carrega added.
One excellent development site is located in the prime Gramercy Park area of Manhattan. Jones Lang LaSalle has been retained by UBS on a defaulted loan of $30.5 million to sell the site at 276-280 Third Avenue, in connection with an upcoming foreclosure sale. Situated on the southwest corner of Third Avenue and 22nd Street, this 4,950-square-foot corner is ideal for residential development. It has the potential for a 104,927-square-foot building as of right, which might be increased by the purchase of inclusionary air rights. Real Estate Alert reports that the loan might command bids of about $300 per buildable square foot, or $31.5 million.
One of Manhattan's most active neighborhoods for office and hospitality is Bryant Park. Eastern Consolidated has been retained to sell 20 West 40th Street, a block-through site on the south side of 40th and the north side of 39th. It consists of approximately 12,178 square feet of land, which allows for 224,000 gross buildable square feet in a 32-story envelope and two below-grade levels.
Preliminary plans have been developed for the site, which includes a 307-room hotel; or a mixed-use hotel and residential development with 188 rooms and approximately 80,682 square feet for residential. Another variation for the site includes commercial offices or big-box retail with residential or office above. There is a special permit that has been approved by City Planning for the site.
The site was acquired last year by real estate investor Ziel Feldman for approximately $200 per developable foot. According to Real Estate Alert, Mr. Feldman hopes to sell the site for nearly double his cost, at $400 per developable foot.
A few years ago, Israeli investor Moshe Shuster acquired the former McDonald's site on 23rd Street, between First and Second, and built the Lumiere Condominium at 340 East 23rd Street. Now the part-time New Jersey and Israeli resident purchased a development site at 524-532 West 29th Street in Chelsea, between 10th and 11th. The Israeli publication Globes reports that a company owned by Mr. Shuster, Victor Homes, paid $12 million for the site; Mr. Shuster plans to build a residential condominium there, with art galleries on the ground floor. The developer can by law construct a 100,000-square-foot building at the site, resulting in a cost per developable square foot of $120.
Robert Knakal, chairman of Massey Knakal (and The Commercial Observer's Concrete Thoughts columnist), said on my TV show that in certain instances investors are paying par or even in excess of par to acquire note sales on development sites. Investor interest was keen when Massey Knakal was retained by Bank of America-Merrill Lynch on the default notes valued at $30.6 million for the site at 956-961 First Avenue, between 52nd and 53rd streets. Crain's reports that a joint venture of Harry Macklowe and Howard Lorber were the winning bidder. One thing is certain: The loan sold for near par and now it is time for the note purchaser to try to secure clear title in the site.
AS I REPORTED earlier in the year, during the fourth quarter of 2010, vacant land for development sold for par or even above the unpaid mortgage balance.
An excellent example is the purchase of the distressed debt by Durst Fetner Residential on the site on the Avenue of the Americas, just south of Herald Square. Last July, Durst Fetner purchased the note from iStar, paying the full value of the loan, which was $101.5 million. After purchasing the debt, they were able to acquire the land title for the future development of a mixed-use retail and residential tower.
The price for residential sites in Manhattan reached $305 per buildable square foot in January, when Glenwood Management paid $125 million for the 410,000 square feet development rights for a residential tower from Fordham University near Lincoln Center.
Investors are getting very interested in development in Lower Manhattan, too. Earlier this month, a joint venture of Michael Steinhardt and Allan Fried acquired the two former American Stock Exchange buildings, at 86 Trinity Place and 22 Thames Street, for $65 million. The partners plan to convert the Trinity Place property into a retail complex and construct a 174-room hotel. On the Thames Street site, they plan to demolish the tower and a construct a 60-story, 400,000-square-foot residential tower.
A few blocks away, a note on a development site is expected to be sold to build an 80-20 residential tower. According to media reports, the note is expected to fetch close to par.
One of the hottest neighborhoods in Manhattan is Tribeca. Eastern Consolidated has been retained to sell a rare development site located at 401 and 403 Greenwich Street, which consists of two buildings that can be purchased together or separately.
Due to the October 2010 Tribeca zoning change, these two buildings are now as of right residential development sites with approval in place for joint development, including a luxury condo. The asking price is $17.250 million.
In each and every borough, development sites are coming to the market. Thirty Henry Street, a 4,800-square-foot site at the corner of Henry and Middagh streets in Brooklyn Heights, is occupied by the Brooklyn Daily Eagle on a month-to-month lease. Massey Knakal is marketing the site with an asking price of $3 million.
Real Estate Finance & Investment reports that two other Brooklyn development sites have hit the market. An investment sales broker has taken bids on a 37,500-square-feet plot in Williamsburg for the Roman Catholic Diocese of Brooklyn, between North Seventh and North Sixth streets and Bedford and Driggs avenues. The site has been approved for a residential building containing up to 75,000 square feet. Due to the proximity to Bedford and the convenience of the L subway stop, the site might fetch as much as $150 per buildable foot.
The second development site is being marketed by Eastern Consolidated for a small development site in Cobble Hill. The sites are owned by Time Equities and consist of three parcels, at 357, 359 and 361 Henry Street, near the waterfront. These sites have been approved for the development of high-end townhouses.
Timing is everything in life as well as in real estate investment. Based upon the growing population in Manhattan, the limited supply of new residential towers under construction and growing touris
m, expect sales of development sites to sell at or near all-time-record prices.
mstoler@madisonrealtycapital.com
Michael Stoler is a managing director at Madison Realty Capital and president of New York Real Estate TV LLC.