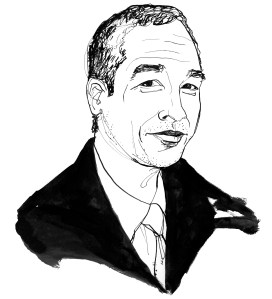 As president of the Downtown Brooklyn Partnership, the local development corporation, Joe Chan has overseen an ambitious plan to revive the business district known to many as the land of law firms, courthouses and offices. Mr. Chan, 39, talked about plans for new public space and thousands of square feet of fresh retail-and how the economic downturn has impacted construction.
The Commercial Observer: You recently briefed officials and the public about updates with the downtown Brooklyn plan. So what's the latest?
Mr. Chan: We really just had a briefing to talk about what's happening in downtown Brooklyn—what milestones have been hit in terms of economic development over the year 2010, and what milestones we look to achieve over the course of 2011.
And what are those milestones, both in 2010 and looking forward?
First is the public realm. In 2010, we had the completion of the Fulton Mall streetscape project, and we also had the installation of wireless Internet access at three parks in downtown Brooklyn: right outside Borough Hall, in Columbus Park; and Willoughby Plaza, where Shake Shack is going to be; and at Albee Square, right outside the Dime Savings Bank building and where City Point is going up.
And what should we expect in 2011?
In 2011, you can expect to see completion of the Flatbush Avenue streetscape project. You can expect to see construction start at Willoughby Plaza, the permanent open space that will go up right outside Shake Shack. And Albee Square will be completed in May, for the public open space.
Get me up to date on City Point.
With City Point, the first phase of the project is under construction. It's 50,000 square feet of retail, and that's well under way. There's steel out of the ground. You basically can see the frame of the structure, the first phase. So it's not topped out yet.
When will it be entirely finished?
I want to say it's about an 18-month timeline.
Have retailers already started leasing space?
We don't have any announced leases yet, but I know that they've had very substantial interest and have been talking to a lot of retailers. The marketing and promotion of the space is already under way.
Is everything going as planned or has the downturn slowed things down?
I'm not going to deny that the economic downturn did not have an impact on downtown Brooklyn, it did. I think the message we have sent is, despite historically challenging conditions and times, what we've seen over the last year—and what we'll see over this year—there's just been this period of historic growth in downtown Brooklyn.
What we're talking about is the retail market has picked up dramatically, between leasing in 2010 and some openings we've had in 2010, to what we're going to see open or start construction in 2011.
So downtown Brooklyn is in the process of reestablishing itself as one of the city's premier retail destinations.
Have there been any casualties in the downtown Brooklyn plan as a result of the downturn?
That's come up. I mean, there were no projects that were stalled in construction. There were no projects that were stopped in construction. There were a couple projects where, you know, the banks took a more active role, or the equities investors took a more active role. There were certainly what we would categorize as planned projects that have been deferred.
What do you mean when you say 'deferred?'
Projects that were on the drawing board or conceived but not yet financed, that did not go into the ground. But, I mean, that's everywhere.
There has been some difference in projects where either the economics did not make sense anymore, or the market for financing was not as ripe as it was before, that have ultimately been deferred, that will get re-launched as the economy improves or the market for financing becomes more friendly.
Is the city as committed to the plans as they had been before the downturn?
I certainly would say that the city is very committed to downtown Brooklyn.
What's the latest on transforming the municipal building in downtown Brooklyn into a glass-facade retail space?
The requests for proposal were released last year in October or November. They were due at the beginning of February. I don't know the details on the responses, only because we intentionally stay blind on that because we could have more than one member responding to them. And we could have people inside and outside of downtown Brooklyn responding, and, frankly, we don't want to be in the business of selecting one member over another-a member versus a non-member.
What I can tell you is, and you can hear this from the city directly, is they got a very healthy response, and I think they're happy with the level of response that they got. They are reviewing the proposals now, but I know that they were not disappointed by the level of the response they got.
Downtown Brooklyn has emerged as a thriving residential community, with 4,000 new residents coming to the area in only the past year. When will new restaurants, bars, clothing shops and nightlife begin to appear?
Listen, I think that there have been new businesses coming in, like Brooklyn Fare, which expanded recently. They basically doubled the size of the supermarket, and then added six seats to the Chef's Tasting Table. So they doubled the size because they saw the need to have more space to serve this strong residential community.
But I would agree 100 percent: We need more restaurants, we need more bars, we need more nightlife. And what we're trying to do now is leverage this very positive story in downtown Brooklyn, and tell the story of all the existing and new residents in a compelling way to restaurateurs and nightlife purveyors and service providers.
It's going to happen incrementally, but, really, it can't happen fast enough.
jsederstrom@observer.com