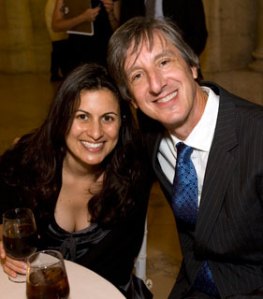 On Monday afternoon, supreme satirist Andy Borowitz delivered one of his many daily missives on Twitter: "My wife just asked me to take out the garbage, and I said, 'Honey, can't hear you–I just put up a pay wall.'"
Funny stuff, though the truth is Mr. Borowitz and Olivia Gentile will never have to worry about tossing out the trash again. The authoritarian couple has just bought a two-bedroom near the top of Merritt House, a brand-new condo conversion of a prewar apartment building at 167 East 82nd Street. The building now has a 24-hour doorman who Mr. Borowitz could reasonably summon to take care of the garbage and play pranks on.
All joking aside, this is quite the home, for which Mr. Borowitz and Ms. Gentile paid $2.05 million, according to city records, a 9 percent discount. Covering 1,621-square-fee in a gracious L-shaped layout, every room has large windows facing south or east, providing plenty of light to read by. Mark Powell and Shlomi Reuveni enumerate the prewar cum contemporary details in their Brown Harris Stevens listing: "beautifully renovated to combine twenty first century living with the charm of a bygone era. Oak flooring, a wood burning fireplace, beamed ceilings, marble tile, high base boards and solid doors are coupled with individually zoned AC, a state of the art eat-in kitchen with top of the line appliances, luxurious bathrooms and powder room."
According to Ms. Gentile's Wikipedia page, which enthuses about her two-year-old book Life List, the couple "spend much of their time upstate, in the rural Hudson Valley." The Observer could find no evidence beyond this, though, but there was the deed for the author's old Slope one-bedroom co-op. She had sold it two months before Lehman collapsed, and around the time the couple married, for $699,000. The address on the deed is listed as 241 Central Park West, a prewar rental building.
And what do you know, the Post profiled the writers' "classic six on Central Park West" this past October, where Mr. Borowitz likes to keep things tidy. "If there's stuff everywhere, it's kind of oppressive," he told the tab. In the photo for the feature, as on his Twitter, Mr. Borowitz holds aloft his newborn daughter Madeline–maybe the couple had those Upper East Side private preschools in mind when they were house hunting.
In moving across the park it appears the writers have downsized from a 2,000-square-foot three-bedroom on the 13th floor, which, compared to similar units in the building, would now fetch around $14,000 per month. That would be more than the new home costs, assuming 20 percent down and a 5 percent, 30-year, fixed-rate mortgage. No funny business there.
Read past Manhattan Transfers here. >>