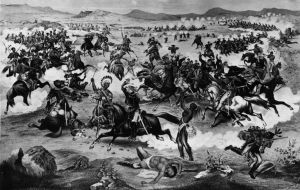 The 2011 Guggenheim Fellowships have been announced! The website for the foundation that dispenses the $40,000 grants is on the fritz, but here are some selected winners from the 180 awarded the grant this year, partially culled from the press release:
Karen Russell, author of Swamplandia!
Author and New York Times Magazine writer Jonathan Dee.
Novelist Bonnie Jo Campbell, who "traveled with the Ringling Brothers and Barnum & Bailey circus for five months, will be writing a series of interlocking stories set in a contemporary American circus, revealing a surprisingly rigid social hierarchy in this multicultural institution."
Biographer T. J. Stiles, whose next book will be about General George Custer.
Performance artist Janine Antoni, who is set to serve a dish at the same restaurant where Marina Abrimovch peformed her Volcano Flambé.
Eccentric playwright Young Jean Lee, whose well-received Lear included lines like, "I am Cordelia and I am good and there are fine candy-spun things sweetening my dreams. I will cry into your ear and give you something to be sorry about."
Too bad there aren't any robots in there. Oh, hang on.
Anthropologist Jennifer Ellen Robertson will conduct research on service robots, focusing on their safety, security, and convenience in relation to the political economy of Japan.
What a well-rounded group!