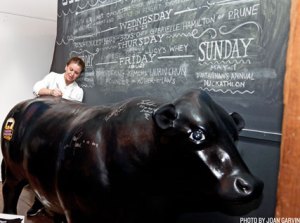 Daniel Boulud once called Miami restaurateur Michelle Bernstein the best female chef in America – and when she blew into town this week for just two days, she had a to-do list of local eateries in hand. Where was she headed?: Torrisi Italian Club, John Dory, Fatty 'Cue and (the one she seemed most excited about) Locande Verde.
Bernstein – who's won lots of awards but won our heart because she trounced the insufferable Bobby Flay on Iron Chef — added the caveat that she had to focus mostly on eateries open late. She could visit them only after serving diners at the James Beard Foundation's Pop-Up restaurant in Chelsea Market. She cooked two dinners there: rib eye, cheesy asparagus, and a dessert topped by a really amazing sherry jello. One dinner was sponsored by Delta, for its top clients (Bernstein oversees the food they serve in first class) but another, open to the general public, sold out in under an hour.
Even Beard president Susan Ungaro said she was surprised at the speed the JBF Pop-Up events (The Chelsea Market space is open day and evening though May 14) have been selling out, and how people have been begging for in's to things like Laurent Gras dinners. "It's like Justin Bieber," she laughed.
Bernstein runs Florida eateries Michy's, Sra. Martinez, its bakery, and a Palm Beach property that bears her name. But, who cares, when is she moving here? The chef said she loves New York and "I dream of being here one day," she said. "I'd have to leave Miami – and I would, I can be purchased," she noted. But cooking here's no picnic. "New Yorkers are the fussiest eaters."