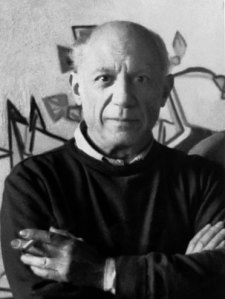 New York's spring auction blockbuster is opening on a buzzy note: A strong stock market, a sunny spring, a good selection of million-dollar merchandise. One boldface name stands out: Pablo Picasso. Sotheby's and Christie's are selling a couple dozen works by the Spanish master, a far more varied selection of them than usual. Picasso lived to the age of 91, and the offerings range from paintings he did as a teenager in Paris to a ribald 1970 image of a naked musician and his muse by the then dirty old man/Old Master.
"He was such a prolific artist" that he's always in the auctions, noted David Norman, co-chairman of Sotheby's Impressionist and Modern art department, which holds its $200 million evening sale on Tuesday, May 3. (Christie's auction is the following day.)
But nothing happens by accident at these carefully orchestrated events. In February, Christie's got $7.8 million for a 1901 Picasso, painted at a time when the artist was 19 and a new immigrant to Paris; this time around there are two from that year for sale. Similarly, "we had a great result–$40.7 million in February" for a 1932 Picasso, said Mr. Norman, and now the house is offering a stylistically similar 1934 portrait, though such works are not generally easy to find. "Great results get the attention of collectors who have similar paintings," Mr. Norman noted.
They'd be loath to admit it, but the auction houses are also aping über-dealer Larry Gagosian, who opened "Picasso and Marie-Therese: L'amour four" last week, an 80-work blockbuster show featuring images, in many mediums, of Picasso's longtime secret between-the-wars mistress, Marie-Therese. Suffice it to say that virtually any collector who wants a Picasso, and can afford one, is coming to New York City in May.
Also on the auction block are a Picasso sheet metal sculpture and a salute to Delacroix at Christie's, and a provincial family portrait at Sotheby's. There are Surrealist Picassos, Classical-era Picassos, heroic Picassos. There's an artwork for every taste, if not for every budget, as most unique works are in the six to eight figures.
So here's the real reason for the Picasso perfect storm: The art market seems robust, and the country seems recovered, but nobody's taking any chances. An unusual Picasso is, ultimately, less of a bottom-line risk than a great work by another artist. This year, in a still-iffy economy, the blue-chip Spanish master rules.
editorial@observer.com