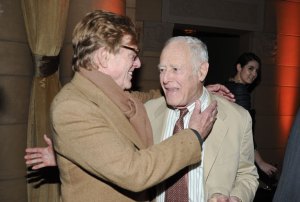 Gay Talese was on the edge of his seat. James Salter stood in a canvas jacket, about to give his speech at the Paris Review Spring Revel in his cracked but majesterial tenor, and Gay Talese was really, really liking it.
"He was just giddy," said Philip Gourevitch, who took over the Review after George Plimpton passed and handed the reigns to Lorin Stein last year. Mr. Gourevich and wife, Larissa MacFarquhar, had been sitting at Mr. Talese's table. "All dinner he was the same grumpy Gay, but Jim connected with him."
Mr. Salter was in town to collect the literary magazine's annual Hadada award, which is named for its mascot, an African bird. "I can't pick this up, it's too heavy," Mr. Salter said upon lifting the funny avian statue. He spoke at length about his long involvement with the Review, starting with a phone call from Mr. Plimpton asking permission to publish his first masterpiece, A Sport and a Pastime.
The legendary writer was clearly touched.
"This is my Stockholm," he said before walking off the stage with Mr. Stein.
The ceremony also honored — and with fanfare! a roaming jazz band! endless cocktails! — the young April Ayers Lawson with the Plimpton prize and Elif Batuman with the inaugural Terry Southern Prize for Humor.
"I wonder if Terry Southern would have won a Terry Southern award for humor," said practiced prize presenter Fran Lebowitz. "The answer, of course, is no."
Ms. Lebowitz also regaled the crowd with one of the many stories she has neglected to actually write down. This anecdote involved Robert Redford, who was slated to appear on stage later and introduce Mr. Salter.
"In the late 1970s I was on a plane with Robert Redford, an L.A. to New York flight," Ms. Lebowitz said. "As soon as he boarded he was instantly surrounded by all the stewardesses on the plane. The entire flight, all the stewardesses were around Robert Redford. 'Would you like a drink, would you like a lobster, would you like a steak, is there anything possible we can give you' — ignoring every other passenger. They reduced all the other passengers to waving their arms in the air saying, 'Excuse me! Excuse me!' to no avail. Finally halfway across the country I leaned over, tapped him on the arm and said, 'I'm very sorry to bother you, but could you please order me a club soda?'"
"Fran, I'm sorry," Mr. Redford said as soon as he took the microphone. "I don't remember you, but I do remember the stewardesses."
After the ceremony, Mr. Stein arranged for an impromptu after party at The Campbell Apartments, an old-time bar in a corner nook of Grand Central Station. Sam Lipsyte and Gary Shteyngart made the trip across the street. We introduced ourselves, and Mr. Shteyngart mentioned an old article about his first novel, which he referred to in the moment as "The Russian Debutante's Handjob." We corrected him.
Then, upon learning The Observer's age, the author fondly recounted his follies of youth.
"When I was 23 I was addicted to horse tranquilizers," Shteyngart said.
A veterinarian friend provided the goods.
"It was a disassociated state. Ah, you just sail off into the sky. It's used to pacify the horse but I ain't no horse, I'm a 135-pound man!"
He got over it.
"I just started drinking. It's more treatable. I'm about to treat it now."